APQC's Process Classification Framework (PCF)® Case Studies
The PCF and the subsequent process transformation fundamentally changed who we are. It rewired us. It changed our DNA. We are now better at everything we do.

Carla Wolfe, Elevations Credit Union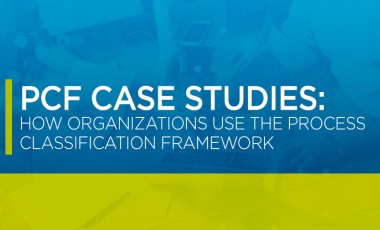 Countless organizations have adopted the PCF for benchmarking, content management, and process improvement. Learn about their stories in this video to get an idea of how the PCF could benefit your organization.
Watch the video
---
How Do You Use APQC's PCF?
Let us know!
APQC would like to know how your organization is leveraging process frameworks, like APQC's Process Classification Framework (PCF)®.
Through this survey, we hope to learn:
How people are using the framework
Insights relating to how the framework is currently consumed
Discover any unmet needs relating to the current framework
Provide your insights now
---