Find out how APQC can help your organization
APQC surveyed over 500 people to learn about organizations' KM plans and priorities for 2015 and the next three years. This data report summarizes early results from the research including: the most common priorities for KM Programs, what's happening to KM budgets, which KM tools and approaches are being implemented in 2015, which KM tools are being improved, promoted, and deemphasized, trends in external knowledge sharing, and what emerging technologies are expected to impact KM over the next three years.
APQC's best practices report on developing and maintaining leadership capabilities describes what best practice organizations do and how they do it. APQC conducted interviews with and wrote case studies about five organizations that have been recognized as having strong leadership capabilities and as using elements of an effective leadership style.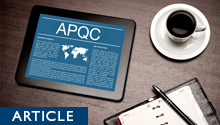 In 2014, APQC and Competency Crisis Initiative, which is part of the Institute for Management Accountants (IMA), conducted a survey on the current state of entry-level management accounting and finance talent. This white paper will answer several of your questions about hiring entry-level management accounting and finance talent.