Find out how APQC can help your organization
Predictive analytics is transforming hiring decisions in ways that reduce cost, increase efficiency, and boost effectiveness. This article details APQC's research into current challenges and trends in applying predictive analytics and traditional measures to recruiting.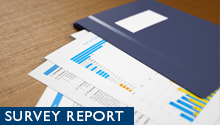 In December of 2018, APQC conducted a survey to understand the common challenges and priorities of process and performance management practitioners as they move into 2019. This summary report looks at the top five priorities and challenges and also explores trends in digital transformation professions in the new business environment.
Shopify wanted to ensure that knowledge flowed seamlessly from the product groups that develop its software to the support staff who answer customers' queries and help them troubleshoot. The organization has built a robust knowledge base of KM content that is fully integrated with its support processes and aligned with its product development lifecycle.