Our late founder, Jack Grayson, believed in maximizing the contribution every individual can make to their workplace and community. In keeping with Jack's vision, we believe we have a commitment to help those in our community who are in need. Through fundraising and volunteering, each year we support a variety of local and national nonprofit organizations.
Every quarter, APQC supports a specific group of those in need by raising money, collecting food and clothing, or organizing a volunteer effort. We help deserving families purchase holiday gifts each December, and we also hold an annual silent auction to support additional groups and individuals as possible throughout the year. We take pride in the impact APQC makes in the world and our local community.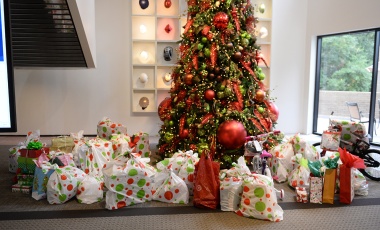 Each year, APQC partners with Interfaith Ministries, DePelchin Children's Center, and Cy-Hope to fulfill Christmas wish lists for about 40 children. We shop for these gifts, wrap them, and then personally deliver them to the children at their schools or homes.
Learn more about the DePelchin Children's Center
---
Here are a few of the organizations we work with: