Training Offerings
Build Capabilities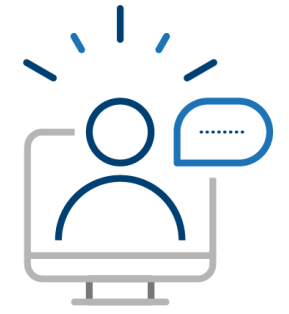 APQC courses and workshops are an efficient and cost-effective way to learn the tools and techniques needed to improve your individual and organizational capabilities and performance. Our curriculum covers the essentials of knowledge management (KM) and process and performance management (PPM), including developing your business case and approaches, essential practitioner tools and techniques, and measuring effectiveness. APQC offers three training formats: facilitated in-person, facilitated online, and self-paced online. All are based on APQC's best practice research and proven methodologies.
DELIVERED BY EXPERTS
We're not just trainers, we're improvement professionals. Our online and in-person courses and workshops are led by consultants and subject matter experts, drawing upon best practices and lessons learned for process and performance improvement from more than 550 organizations worldwide.
TAILORED TO YOUR UNIQUE NEEDS
We'll design your in-person training or workshop to meet your particular challenges and requirements. While our sessions typically take ½ to two days, we can customize any training to your time constraints and the specific skills you want to learn.
DESIGNED FOR IMMEDIATE ROI
Our courses are developed for accelerated education. Numerous hands-on activities help participants learn tools and techniques they can apply to their everyday work the moment they step outside the course.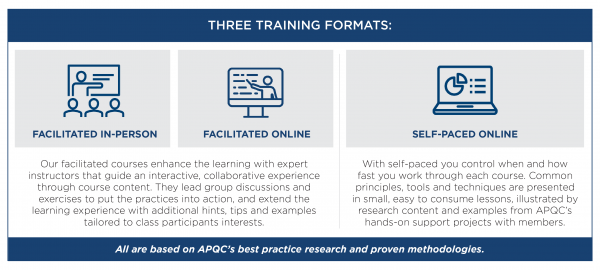 APQC's training and guidance have proven to be a valuable asset to our core knowledge management team in improving our strategies and ensuring they are inline with the agencies strategic commitment.

April Buckland, IRS