Assess Capabilities and Performance
Let our Advisory Services team perform a comprehensive assessment of your organization's process or knowledge management maturity, so you can see where you stand – and take steps toward improvement. Using APQC's proven models and insights from our research, our consultants will evaluate your organization across business units and against other organizations. Choose from three main types of assessments: Process Management, Knowledge Management Capability, and Organizational Effectiveness.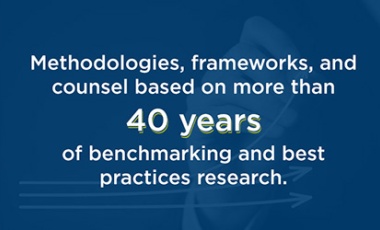 APQC's Capability Model Assessments leverage our best practice maturity models and expertise to help you understand, plan, and assess your knowledge or business processes and the steps needed to take your performance to a higher level.
Take a look at our available assessments
---
Start here...
Questions about APQC Advisory Services' assessments?
CONTACT APQC
---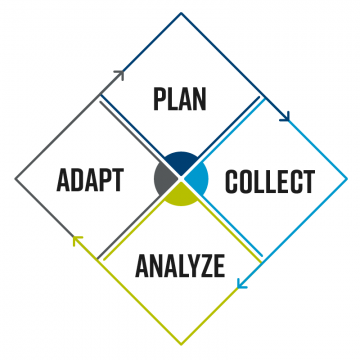 A Four–Stage Approach, Based on More than 40 Years Research and Experience 
To conduct each assessment, our Advisory Services team uses our proven methodology:
1. Plan – Review background information, align scope, and prepare an assessment plan to fit your needs. 
2. Collect – Develop a data- and information-collection strategy, including survey tools, group discussions, and one-on-one interviews. 
3. Analyze – Evaluate your strengths, opportunities, and risks against relevant best practices; identify gaps 
4. Adapt – Develop action plans for gap closure and strategic improvements. 
At each of these four stages, our experts seek insight into your organization's culture and history. Our aim is to gain context for what you do and how you do it, and ensure alignment with your organization's strategy. 
 
---
APQC helps you analyze and enhance the performance of your organization.

Jamie Gonzalez, DXC Technology