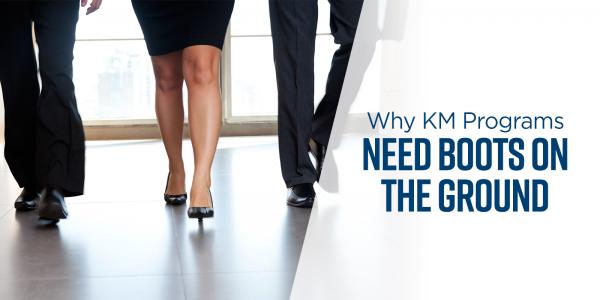 All knowledge management programs need dedicated staff. We've seen organizations try to make KM a part-time role, but the strategy has much greater odds of success when at least one person (and often more) is allocated full-time to KM. This ensures KM gets the focused attention required to build buy-in, overcome obstacles, and evolve in parallel with the business.
That said, bigger isn't always better when it comes to your KM team. Data from APQC's KM Benchmarks and Metrics Assessment shows no relationship between the size of an organization's KM staff and either the rate of participation in its KM approaches or the likelihood that executives will see the KM program as effective in fulfilling its purpose. This shouldn't be taken as evidence that KM core teams aren't important—they are!—but it offers hope for programs with small hubs and little expectation of future expansion.
What does drive success is having KM-focused roles in the business groups that KM supports. These personnel come in many forms. Some KM groups have full- or part-time embedded staff who help apply KM by administering communities, facilitating lessons learned sessions, maintaining content repositories, and so on. Others assign volunteer advocates, champions, or super-users to spend a certain percentage of their time providing KM support to their respective teams.
Embedded KM resources wear many hats, but two critical ones are (1) identifying the right opportunities to apply KM and (2) overseeing KM training and awareness. Only around half of KM programs have people out in the business assigned to these roles (54% and 48% respectively), but those that do have significantly higher participation rates and are also more likely to be perceived as effective by leaders.
Working on APQC's latest KM whitepaper, How to Build KM into Daily Work: Make KM Intuitive, Embedded, and Easy, brought this data to mind and inspired me to select it as the September KM Metric of the Month. While most KMers recognize that embedded support is important, they may not know how to put it in place or how to take full advantage of it when it's available. Our latest research reiterates the importance of integrating KM resources into the business and provides insight into different ways to cultivate and leverage embedded support staff.
Why Embedded Support Matters
Embedded knowledge managers and advocates play in important role in building awareness and buy-in for KM. They're intimately familiar with the work that happens, so they can explain the KM value proposition in a way that resonates. When a trusted colleague explains that you can save time by using community content or that the lessons learned will reduce errors and rework, you're more likely to take note than if a stranger from a central KM group delivers the same message.
Because embedded resources are often collocated with the people they're influencing, they can provide in-person coaching and troubleshooting. When APQC surveyed KM professionals about the types of training most effective in boosting KM participation, respondents emphasized the need for face-to-face guidance, facilitation, and informal "office hours" where employees can get personalized assistance. Embedded resources are in the best position to provide this kind of high-touch hand holding.
And finally, embedded staff can provide insight on how to adjust KM tools and approaches to make them easier for employees to use. When KM isn't taking off, usage metrics and employee surveys may not tell the whole story in terms of what's impeding adoption. You have to talk to people to get to the root of the problem. Embedded KM staff can not only have those conversations, but also build enough trust to get complete and honest answers.
What It Looks Like in a Real Organization
Air Traffic and Navigation Services, which handles air traffic control for all of South Africa, is a great example of the role embedded resources play in KM success. ATNS has a small central information and knowledge management (IKM) team that leans heavily on a network of volunteer "knowledge champions" to ensure KM actually happens. These champions help direct KM resources to the most urgent needs while training colleagues on how and why to use KM tools and approaches.
Champions work closely with the IKM team and report on KM needs and activities in the areas they represent. Once a year, each champion has a "training intervention" with the KM team where they identify targeted opportunities to apply KM—for example, hosting a brown bag lunch or facilitating a lessons learned session—to address specific business needs. Champions also help source candidates for ATNS' Legacy Program, which captures knowledge from subject matter experts nearing retirement.  
Champions are the lynchpins of ATNS' communications and training strategy, acting as KM's "eyes and ears on the ground." They present on KM in department meetings, and when the IKM team rolls out something new, they communicate those changes. The champions also conduct roadshows called IKM Labs that allow employees to test and experience KM tools in a simulated environment.
ATNS' approach is just one example of how to deploy and leverage embedded KM support staff. We've observed varied successful approaches from organizations like World Vision International, Pfizer, Shopify, and Consolidated Contractors Company. If you are looking to add or improve embedded support for KM, I encourage you to review our new whitepaper or any of the case studies above to learn what works.