With a theme of Bridging High Touch and High Tech, APQC's 2019 Knowledge Management Conference highlighted a key duality faced by modern KM. On one side, new technologies are improving knowledge discovery and altering the role that KM plays in connecting people to the information and expertise they need to do their work. But even as tech innovations reduce the administrative burden of KM, the implementation of these new tools requires more intense strategic planning and change management than ever. And while supporting technology adoption and the transition to the digital workplace, KM can't lose sight of its core mission. It must continue to foster the kind of person-to-person collaboration, knowledge transfer, and mentoring that technology cannot replace or replicate.
Key Takeaways from the Conference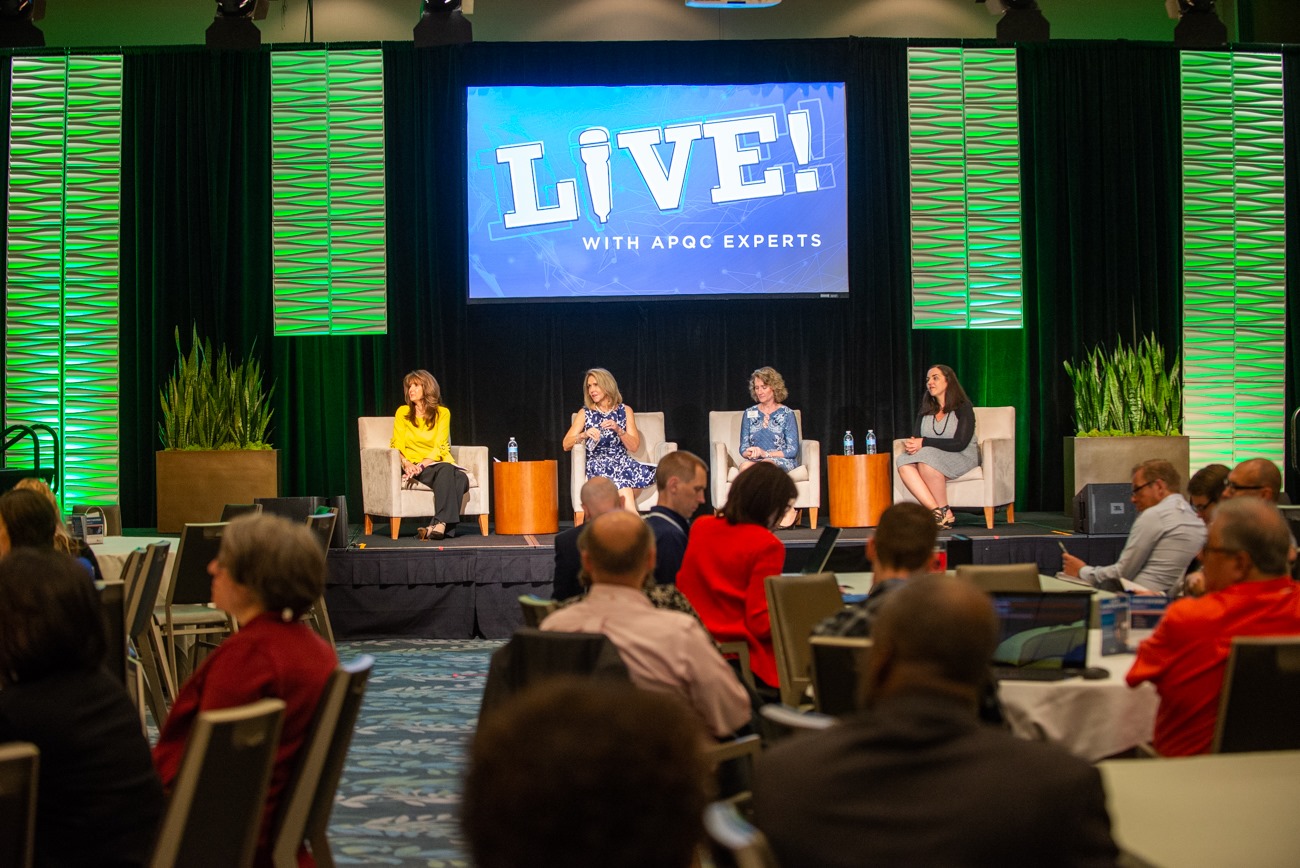 On the "high tech" side of the KM equation, the impact of cloud platform like Office 365 continues to dominate the conversation. KM leaders like Grant Thornton and Schlumberger talked about their use of the cloud for content management and collaboration and how it is affecting their processes. And in a Think Tank discussion session, attendees brainstormed ways to overcome the challenges of moving KM toolkits to Office 365.
Other technology sessions focused on the use of auto-classification and artificial intelligence to improve search and avoid information overload. And a Think Tank looked at KM's role in digital transformation, including ways to harness digital technology to achieve the KM mission and the need to tighten the relationship between KM and IT.
But despite the centrality of technology, many of the deepest conversations emphasized the "high touch" aspects of KM. In his keynote, The Culture Code author Daniel Coyle outlined behaviors that help organizations build knowledge-sharing cultures. These include creating a safe space where people feel comfortable asking questions and sharing ideas, fostering a sense of shared vulnerability where risk is shared equally across the group, and establishing a sense of shared purpose. Firms that fail to foster this kind of environment are unlikely to achieve goals related to openness and continuous learning, no matter what technology they put in place.
Throughout the two days of the conference, speaker after speaker echoed Coyle's focus on people, relationships, and trust. Catholic Relief Service, Corporación Multi Inversiones, and BBVA all built buy-in for their KM communities by thinking deeply about their target audience and putting the user experience front and center. Samaritan's Purse and Ove Arup & Partners described the role that experts play not only in managing knowledge, but in building credibility for KM and driving adoption. And numerous Think Tanks addressed people and culture issues, from selling KM to employees to combatting knowledge hoarding, and sharing and curating knowledge in the flow of work.
At the conclusion of the event, APQC Board Chairman Carla O'Dell outlined five guiding principles to help KM survive and thrive in the coming years.
Focus on the right things. KM programs are most successful when they focus on where the business makes money or achieves its mission, closely examine the needs of internal customers in those areas, and develop solutions that help them reach their goals.
High tech needs high touch. As organizations embrace new technology, KM can play an important role in driving user adoption and integrating people-focused approaches to supplement automated and self-service solutions.
Find advocates and partners. Building strong relationships with HR, IT and client business groups helps KM align with business needs and efficiently execute its mission.
Build a sustainable program. A talented, agile team that combines tech savvy with change management and facilitation skills will prepare the KM program to meet new and evolving knowledge challenges, whatever they may be.
Perfect the art of the vivid story. Stories are vital to explain what KM is, why it's important, and how it impacts the business. To be successful, knowledge managers should hone their communication skills, including using data and advocates out in the business to help to the KM story.
Whether your KM focus is high tech, high touch, or somewhere in between, this advice can help you maximize the value KM provides and boldly move forward into whatever the future holds.
More Insights and Examples from This Year's Event
To learn more about the research and stories shared at this year's conference, check out the written overviews and slide presentations from the sessions. The overviews, which summarize key points and takeaways from each keynote and breakout speaker, are available to the broader KM community for a limited time.  In addition, APQC Executive Director Cindy Hubert and I hosted a webinar last week that focused on our key insights from the conference. A full recording and slides from that webinar are available on our site.  You can also see more great APQC's 2019 Knowledge Management Conference photos here.
Please post additional thoughts on the conference or the role of high tech and high touch in KM in the comments below. And please join us in 2020! Keep an eye out for registration, which will open soon.