Reviving Leadership Capabilities (Best Practices Report)
Details
Type:
Published:
September 8, 2014
Author:
Elissa Tucker and Sue Lam
Pages:
85
Price:
Your Price: $395.00
Member: FREE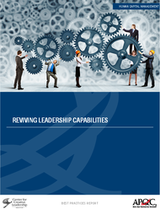 APQC's best practices report on developing and maintaining leadership capabilities describes what best-practice organizations do and how they do it. APQC conducted interviews with and wrote case studies about five organizations that have been recognized as having strong leadership capabilities and as using elements of an effective leadership style.
APQC identified these five best-practice organizations representing a variety of industries:
Caterpillar,
Cardinal Health,
Ford Motor Co.,
Monsanto Co., and
W. L. Gore.
Taken together, this best practices report and APQC's leadership survey findings point to 11 best practices that dynamic leadership organizations use to build and sustain the leadership capabilities required for success in today's business environment. These best practices are organized into four different themes in this report.