Knowledge Management Strategy
To develop an effective knowledge management (KM) program, your organization needs a systematic strategy, not just a general plan to help employees share knowledge. APQC has the best practices, tools, and insight to guide you toward the best approach. We recommend starting with a detailed business case that outlines your objectives and the resources you will need. Focus on building a holistic, enterprise-wide KM program. You may want to pilot certain tools and practices in targeted areas of the business, but do this as part of a larger plan. On average, organizations with comprehensive programs derive significantly greater value from their efforts.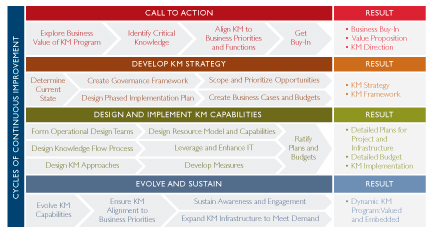 Get Started
Visit APQC's Interactive Knowledge Management Strategy Framework for the best approach to your KM strategy. It will give you a detailed explanation of every step of implementation and provide you links to targeted content, best practices, and tools and templates.
APQC offers one on one support!

APQC's Advisory Services team offers a wide range of services to help you advance your KM efforts. Using a facilitative consulting model, we partner with you to build your strategy. Contact us today to discuss your needs!
We also license three of our KM implementation guides. These are strategic road maps that help you deploy a robust and steadfast enterprise KM program and successful KM approaches. Licensing provides a way to build internal skills and competencies while advancing your KM efforts in a focused and efficient manner. Download more information for the following guides:
Evaluate the Performance of Your Current KM Efforts
APQC's KM Capability Assessment Tool offers a rigorous way to measure and evaluate your organization's KM approaches, processes, and tools. Based on our five-step maturity model, we can identify the maturity level of your organization's KM program and offer a road map for advancing to the next level. And if you are short on time, we offer an abbreviated version of the KM CAT that gives you an immediate response regarding the current state of your KM program.
Continue Learning About KM in APQC's Knowledge Base or by Following the Links Below: