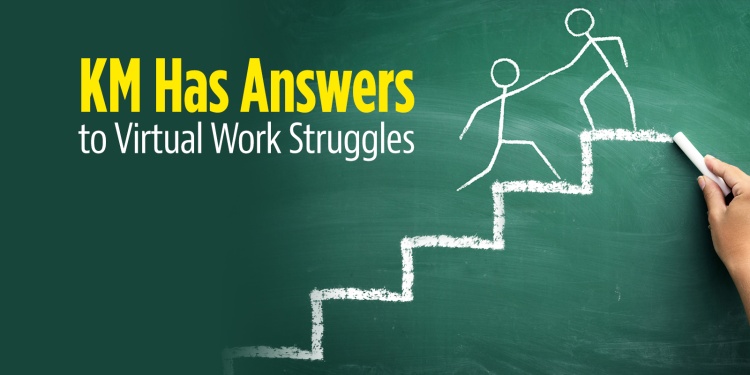 As employees adjust to the "new normal" of more virtual work, many organizations are struggling to keep information flowing and replicate the teamwork that usually occurs in the office. Employees can collaborate without being together, but it doesn't happen as naturally. It requires deliberate effort, specialized tools, and new cultural norms.
Fortunately, knowledge management has spent decades figuring out how to build connections and community among employees who don't work side by side. Some KM best practices take years to instill, but others apply even when you're putting together a "quick and dirty" approach in the middle of a pandemic. Below are 5 KM best practices to encourage employees to share knowledge when they can't be together.
If you want more insights like these, join APQC Wednesday, April 29, and Thursday, April 30, for the first theme week of our KM Conversations webinar series, Engaging Employees in Virtual Collaboration. We have amazing speakers from Microsoft, TechnipFMC, World Vision, and Medical Teams International—plus an interactive discussion session led by an all-star lineup of KM leaders. APQC members can register now to join live or review the sessions on demand.
1. Create a clear, consistent path to information and updates.
Effective communication is a prerequisite to collaboration: People can't work together if they don't know what's going on. In a quickly evolving situation where you can't gather for a meeting, the natural inclination is to over-communicate. Well-meaning leaders and corporate groups disregard long-established practices and start spamming people with overlapping (and sometimes conflicting) messages. The result is that employees have to spin their wheels parsing through this overload—and some may tune out altogether.
Organizations can avoid this mess by quickly establishing a "single source of truth" for critical information and updates. This can be an intranet home page, community or team site, wiki page, or social network channel—the exact format is irrelevant as long as it's easy for employees to access and fits the corporate culture. Reinforce that this location will always have the latest information, and ask everyone sharing updates to use the centralized channel. Ideally, someone should review messages before they post to avoid conflicting or duplicated information.
If the organization has an email-focused culture, you may want to deliver updates directly to people's inboxes. But these messages work best as automated notifications from your single source of truth. That way, the information stays current and employees can regulate if and when they want to receive emails.
2. Be flexible in how people engage virtually.
When organizations put collaboration platforms in place, many are tempted to dictate strict usage guidelines. This is especially true as managers grapple with measuring "time on task" for virtual workers. But APQC's research suggests that community and collaboration tools work best when leaders abandon a one-size-fits-all approach.
Employees reach out to peer networks for a range of needs—and that's a good thing. Along with structured collaboration around business issues, collaboration platforms enable more casual networking and "water cooler style" conversations that spur innovation and connections. And even letting coworkers share homeschooling tips, cookie recipes, and photographs of their dogs can make them feel less isolated, which has a knock-on effect on motivation and productivity.
If your organization is relatively new to using collaboration tools, make sure you're flexible in how employees form groups and engage on these platforms. If you normally have strict rules barring non-business conversations, consider creating some designated spaces for fun (groups for work collaboration vs. social interaction should be clearly designated as such). People need to feel connected to a community right now, and making them feel supported may be more important than keeping them 100% focused.
3. Make collaboration tools integrated and mobile.
Employees adopt collaboration tools when they are linked to core work systems and applications. Microsoft Office 365 is one example: If someone spends a lot of time in Excel and Word, then collaboration features layered on top of those applications will feel more seamless. Similarly, customer service agents and salespeople will be more inclined to collaborate inside the CRM systems and knowledge bases they use regularly.
Organizations that have made virtual collaboration easily accessible in the workflow are in a much better position now. One critical area is mobile access. Even when employees work in an office, they are more likely to interact with learning and knowledge content when they can access it from a tablet or phone. I suspect this is even more true as they balance work with entertaining out-of-school kids and standing in line for toilet paper.
It's probably too late to make major upgrades to your collaboration infrastructure, but even small improvements can make a big difference. Some organizations have turned on new features within their systems, and others have accelerated pilots to move capabilities into production. Evaluate what's feasible, and identify upgrades and tweaks that will improve the end-user experience for virtual employees.
4. Make sure people know how to use the tools and the norms for interaction.
The biggest challenge in virtual collaboration is conveying what you want employees to do and when, where, how, and why they should do it. I wrote about these issues in my March post, so I won't belabor them here. In addition to a communication and training strategy, it's a good idea to identify champions or super users out in the business who can help you relay the message, upskill users, and get everyone on board.
If your organization is struggling with the cultural side of virtual, the KM Conversations webinar series may be particularly helpful. For example, Microsoft will share "culture accelerators" it uses to promote participation in employee communities, and TechnipFMC will explain how it helps workers develop their own personal KM skills. Both sessions will give you ideas for how to communicate with employees and reinforce the knowledge-sharing behaviors you want to see.
5. Acknowledge employees who do it right.
Even with good technology and training, sustainable collaboration requires positive reinforcement. Organizations with a culture of virtual knowledge sharing reward and recognize employees who exemplify that culture. Recognition does more than just incentivize the employees who receive it. It highlights success stories and emphasizes value the organization places on sharing and teamwork.
Some organizations have elaborate recognition schemes that incorporate KM-centric performance objectives and annual awards. While these are great motivators, you don't have to revamp your performance management system to acknowledge collaborative behavior. A simple thank-you from a leader or manager is often the most effective way to recognize exemplary contributions. Employees also respond to peer-based recognition features where they can "like" one another's content or give kudos to colleagues who have helped them.
If your organization wants people to reach out and collaborate virtually, make sure all levels of leaders are walking the talk. If managers use the collaboration platform, encourage others to do so, and publicly acknowledge those who do it best, that will go a long way to shifting priorities and mindsets.