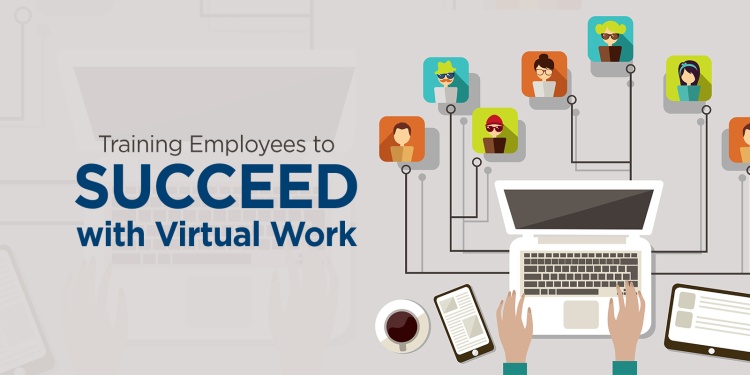 We're all feeling the impact of Covid-19 in our personal and professional lives—which are blending in unprecedented ways, as demonstrated by the frequent cameo appearances of children and pets in my video calls. Every organization faces its own challenges, but for most, the combination of a fast-evolving situation and so many people transitioning to virtual work risks huge bottlenecks in knowledge flow. Things change hourly, and employees accustomed to face-to-face meetings and conversations are suddenly in their living rooms staring at their laptops. Many are unsure where to go for updates, how to get answers, and the best way to collaborate.
Like everyone, knowledge management teams are figuring out which problems to tackle and how to best support urgent needs. And as scary as the current climate is, it represents a teachable moment. Employees need to keep knowledge circulating, and their usual paths for doing so have been interrupted. This may make them more receptive to learning what KM can offer, how to use it, and how it can help them stay connected and productive.
When we asked participants in our KM in 2020: Innovating in the Face of Disruption webinar last week how their KM teams are reacting to the pandemic,  around two-thirds said they are beefing up guidance on virtual collaboration and helping leaders create one-stop shops for information and updates. But far fewer were training employees as they settle into virtual work.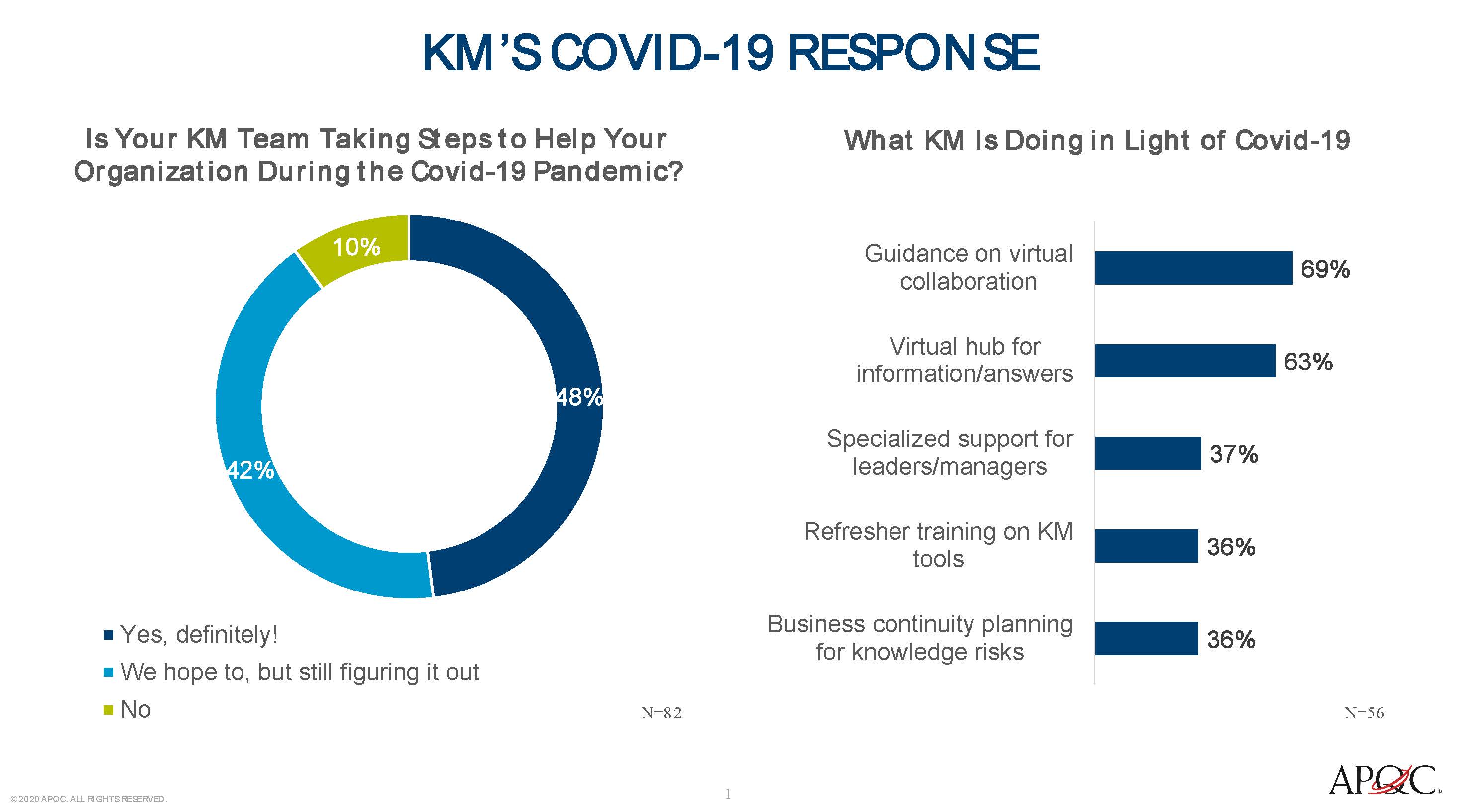 I recommend prioritizing the training and coaching side of your response. It's critical to ensure employees are aware of—and comfortable with—your virtual toolkit for accessing and sharing knowledge, connecting with colleagues, and collaborating on projects and deliverables. This is old hat for some organizations, but completely new for others, and even those with long-established practices for virtual work may have employees encountering it for the first time.
Below are three recommendations for KM training over the coming days and weeks. If you want more details, check out our Knowledge Management Training for Every Career Stage collection.
Remind Employees What's Available and How to Use It
Smart KM teams continually reinforce what knowledge to share and when, where, why, and how to share it. Point people to the resources you have, or create new training targeted to the current environment. Any content should be user-friendly and easy to consume. Depending on your culture, it may help to add some humor to help relieve tension in these dark times.
While email and social are good for quick reminders, employees stuck at home may be particularly receptive to high-touch virtual support. Host live trainings or informal Q&A sessions to respond to questions and help employees troubleshoot. This approach has proven to work well for organizations with a lot of remote employees.
For example, the KM team at a software and technology consulting firm hosts office hours every two weeks. The first half of each session focuses on a topic of the day, such as how to use a certain tool. The second half is open Q&A where participants can pose any question they want. The office hours make KM more visible and accessible to employees while helping them build trusted relationships with the KM team. Managers use office hours to identify areas where people are struggling and then ask the KM team for more targeted help. Even though the sessions are designed for novice KM users, veteran employees find them useful to catch up on the latest developments.
When employees feel overwhelmed and disconnected, interactive coaching that walks them through step by step can go a long way. And if your organization has set up new information points or collaboration groups in light of Covid-19, the sessions can nudge people to take advantage of those channels to stay informed and engaged.
For more information, see Design KM Training That Can Cut Through the Noise and Reinforce and Refresh KM Training as Needed.
Coach Employees on "Rules of the Road" for Virtual Knowledge Sharing
With so many employees suddenly working from home, organizations may experience a flurry of digital interaction in email, community sites, enterprise social channels. In theory, this is a good thing—it means employees are engaged and connecting. But when taken to extremes, digital updates and conversations can become overwhelming, especially if the information is off topic or "nice to have."
Employees need clear guidelines on what to share (and not share) as well as the best channels to use. KM can supply simple rules of thumb on what's worth communicating and whether a question or update is best conveyed through a virtual meeting, email, community or team site, or private chat. When employees are posting too much or in the wrong place, thank them for their contributions and then redirect their enthusiasm toward more productive contributions. We've seen this work at a range of organizations, from Shopify to Management Sciences for Health. If you have KM champions or super-users in the business, ask them to help convey ground rules for digital sharing and coach employees who go off the rails.
You may want to designate certain outlets for social conversations so they don't get mixed up with—and distract from—the critical work of the business. Establish fun threads in your collaboration platform, or host a video-conference "coffee break" or "happy hour" for your team or department. These help replicate the sense of community employees may be missing, and they are a place to redirect off-topic contributions.
For more information, see Actively Encourage the Right KM Contributions.
Provide Extra Support for Leaders, Experts, and Key Personnel
While KM teams should help everyone, certain personnel—such as executives and subject matter experts—may need specialized support. Many senior people have experience communicating and leading virtually, but others may be uncomfortable with the transition. And still others may not understand the benefits of using open channels like communities and enterprise social, instead of calling or emailing people individually.
KM should do everything it can to help leaders and experts during the current crisis. Encourage them to role-model good digital collaboration habits by using the same "rules of the road" as other employees. Senior people will be extremely busy, so make it as easy as you can. For example, a KM representative could talk to a leader for 5 minutes, translate her ideas into a blog post or message for the collaboration platform, and then run it by her before posting on her behalf.
It's more important than ever for KM to listen to what leaders need and help them solve problems. Don't try to dictate to them, but do come with ideas and proposals where you can. Crisis situations are an opportunity for KM to prove its value to the organization, and there is no better way than to make an executive's life a little easier!
For more information, see Create KM Training That Targets Executives—and Make Specific Requests