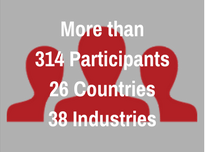 APQC's 2017 Knowledge Management Conference is officially over and it was informative and fun to say the least. Celebrating 22 years of bringing together the best and brightest minds in KM, we saw so many of our members and clients from all over the world; and we also met a lot of new friends (who might be future APQC members). As the conference theme suggested, we explored some of the biggest trends that will transform how employees interact and share knowledge over the next decade.
Each day was jam-packed with great content and lots of networking opportunities. If you couldn't make it, or if you just want to relive the moment, check out our conference materials below.

Now through June 30, participants of the conference can still purchase the Post Conference Multimedia Access. With so many sessions to choose from, it was impossible to attend them all. Now you can view all of the sessions we had permission to record post conference at your leisure.
If you are interested in purchasing, do so through the 2017 conference registration. You will need the email address you used to register for the conference and your registrant ID. Attendees will have access to the Post Conference Multimedia through April 30, 2018.

A special thanks to our exclusive 2017 Knowledge Management Conference sponsor, Iknow, LLC! Their contribution to the conference was invaluable. You can view the overview of their breakout session here. Look to hear more from them in the near future as they have more insights to share with the APQC audience.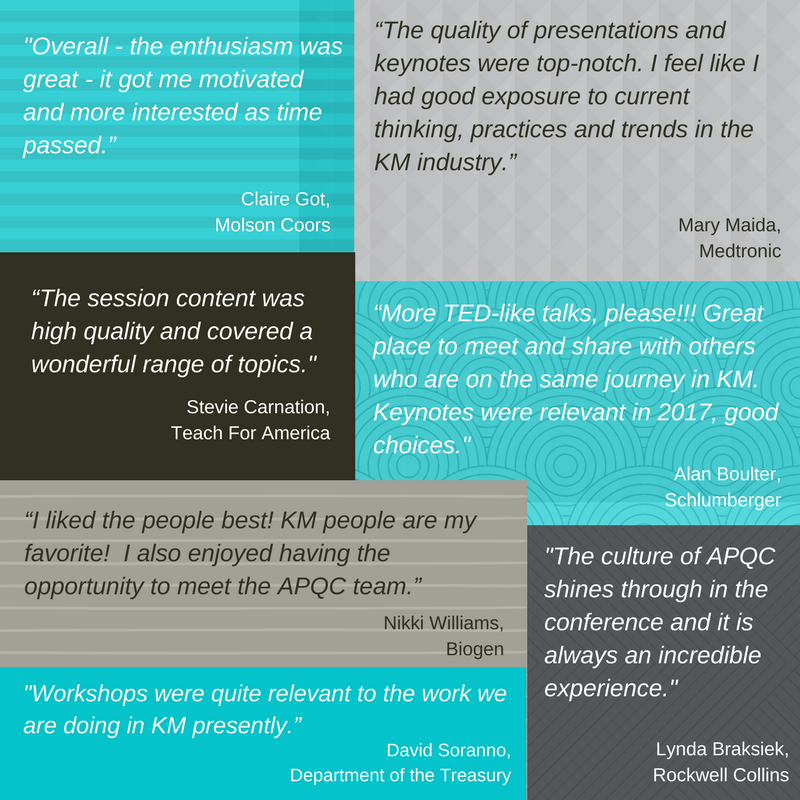 We saw a lot of buzz on Twitter about the conference. Search #apqckm for some meaningful nuggets from the conference. Here are just a few we captured.
@inter_vivos "We're not trying to influence new hires; we're trying to hire new influencers." Yes!#ChangeIsGood #APQCKM pic.twitter.com/Mc5kqTtFGn — Kim Glover (@Glover_Kim) April 28, 2017
#APQCKM deep work is the killer app for the Knowledge economy. pic.twitter.com/ETciRvqGYc — Maria-Rosa Moroso (@MRMoroso) April 28, 2017
The amazing ladies of @apqc - brilliant, talented, gorgeous and empowering! #apqckm @CHubert_apqc @LTrees_KM @odell_carla #darcylemons pic.twitter.com/jOMAxpuGAQ — Sarah Crass (@SarahCrass) April 27, 2017
@WorldVision's SArah Crass shares why sharing failures leads to stronger knowledge management outcome #apqckm pic.twitter.com/YB7YIJvCyC — Carole St. Laurent (@fluidIT) April 27, 2017
@PickelsSMP Fearlessly catching the wave of #KM successs with cloud technologies. #APQCKM pic.twitter.com/IuoIQWZGXE — Kim Glover (@Glover_Kim) April 27, 2017
Role of KM:connect-collect-curate-anticipate-facilitate--to affect knowledge flow @CHubert_apqc #apqckm — Mary Maida (@MaryMaida) April 27, 2017
The bar for #KM #UserExperience is set in the CONSUMER world - and that bar keeps going higher. #apqckm @odell_carla — Sarah Crass (@SarahCrass) April 27, 2017

There was much fun to be had at the conference. Thank you to all of our conference attendees who participated in our gamification challenge, the raffle for the iPad Mini, the evaluations contest, and more. Congratulations to all of our conference prize winners.
iPad Mini Raffle Winner
This year's iPad content was sponsored by Iknow. Thank you Diego Fernandes from Odebrecht for attending and we hope you are enjoying your iPad!
Gamification Challenge Winners
Our thanks go out to some very enthusiastic game players. Through the app, they had the chance to earn points by completing more than 40 conference challenges. On our leaderboard we had the top seven players score the maximum number of points, at the end it all came down to speed. Congratulations to our top three winners! Honorable mentions are also below.
Mathew VanRavenhorst - US Dept of the Navy/ Carrier Team One
Matthew Hearl - Gryphon Technologies
Rosaline Berry – IRS
Kaushik Roy - Save the Children
Devraj Chattaraj - Tata Business Excellence Group
Tomasz Drzewiecki - Roche Polska Sp. z o.o.
Daniel Quinones - CHRISTUS Health
Evaluations Contest Winner
Congratulations Mark Nestle with Praxair. You are the winner of our evaluations contest! Thank you for your evaluation submissions.