Idea Sharing, Networking, and Learning Highlight APQC's 2016 Knowledge Management Conference
APQC's 21st Annual Knowledge Management Conference at The Houstonian Hotel provided five days of workshops, keynote and breakout sessions, interactive learning, and networking. More than 300 dedicated knowledge practitioners and business leaders engaged with peers, thought leaders, and the APQC staff, resulting in one of the strongest conferences in recent history. An impressive and diverse showing of industry participants brought together a group of individuals passionate about transforming the field of knowledge management.
If you missed any part of the conference or are interested in reliving the moment, check out our conference proceedings below.
---
Special thanks

A special thanks to our exclusive 2016 Knowledge Management Conference sponsor, Iknow, LLC! Their contribution to the conference was invaluable. You can view the overview of their breakout session here. We asked them to recap their conference experience, here's what they had to say.
What an exhilarating and valuable experience it was for Iknow, LLC to sponsor the 2016 APQC Knowledge Management Conference earlier this month in Houston. The conference exceeded our expectations in so many ways. As a Knowledge Management consultancy led by former heads of KM from among the largest global consulting firms, we have been incorporating APQC's benchmarking for decades. It was an honor to represent and support the organization which has authored the best practices for our industry, and to present to such a distinguished audience of knowledge management professionals.
Topically and logistically, the conference was a huge success. Not only were the sessions cutting edge, informative, and thought-provoking, but the planning expertise and experience of APQC's leadership and staff provided attendees the chance to expand significantly their professional network of valuable KM players in public, private, and nonprofit circles.
In addition to the terrific networking opportunities for the conference participants, we were impressed by the very high levels of engagement and energy in each of the sessions and the breadth and depth of examples on KM best practices. We took away several key themes running through the presentations:
The continuing challenges of integrating massive amounts of content from multiple sources and repositories and the role of new automated classification and content curation tools in helping with this
The varied approaches to restarting stalled KM programs—often with a strong focus on expanded roles for communities of practice and social networks as well as traditional levers such as business-driven knowledge strategies and broad stakeholder engagement
The exciting future role of AI/machine learning and cognitive computing for locating content and expertise, automating knowledge workflows, and creating a more intuitive and personalized user experience
We at Iknow look forward to expanding the relationships we launched at the conference and are committed to be a consistent presence and supporter at future APQC events. With Iknow's business and technology consulting, and systems integration services, partnering with APQC was an ideal alliance. We are looking forward to seeing you all at future events and conferences, and together, developing, supporting, and facilitating the exchange of KM best practices to the global community.
---
conference winners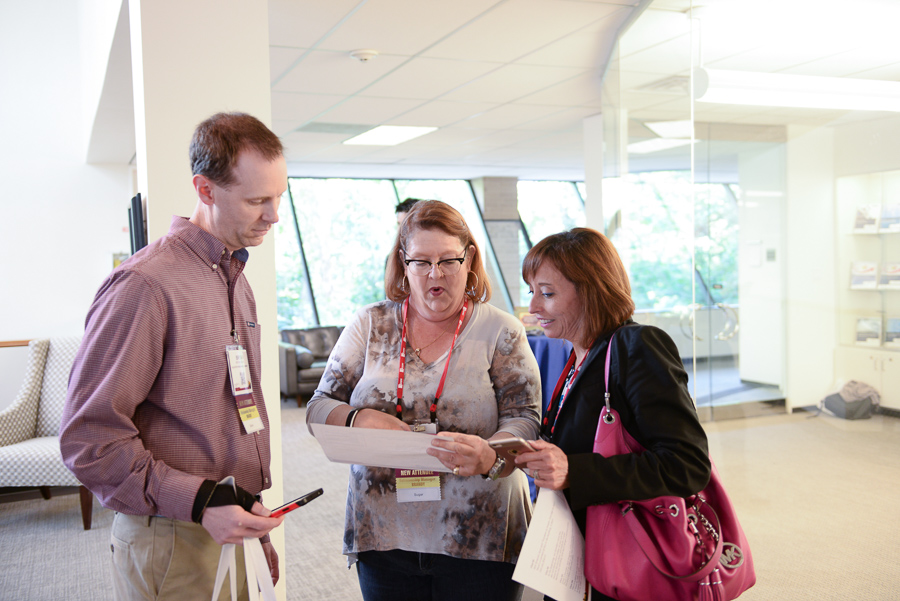 There was much fun to be had at the conference. Thank you to all of our conference attendees who participated in our pairings networking activity, the APQC scavenger hunt, the raffle for the iPad, the connections contest, and more. Congratulations to all of our conference prize winners.
iPad Raffle Winner
This year's iPad content was sponsored by Iknow. Thank you Tamara Viles with FMC Technologies, Inc. for attending and we hope you are enjoying your iPad!
Connections Contest Winner
Wale Junaid with Allstate won a Fitbit for making 106 connections through the conference app. Congratulations!
Evaluations Contest Winner
Congratulations Renee Vogt with Merck and Co., Inc. You are the winner of our evaluations contest! Thank you for your evaluation submissions.
---
Testimonials
Here is just some of what attendees had to say about the conference.
"This is THE source for KM professionals, education, and best practices. You come to the APQC conference to learn more about the discipline, not just tools. All the keynotes were engaging, thought-provoking, while also immediately useful in their content. The conference brochures, printouts, communication prior to the event and availability of an app are wonderful. Additionally, having so many APQC staff present and clearly identified is a wonderful "help" to conference attendees with questions etc." – Melissa Dahm, Rockwell Collins
"The supportive nature of everyone participating helps us share our common journeys. The staff did an excellent job at creating and managing this event. It was done so well, down to the details. Well done!" - Lynnette Gulley, FMC Technologies, Inc.
"This was a great opportunity to network with individuals from other organizations. Good mix of companies and industries. The keynotes were excellent and provided lots of value. APQC did a very nice job of balancing full group activities with breakout sessions." – Darrin Brogan, The Chartis Group
"Learning from both APQC experts and industry practitioners was exceptional; the combination adds credibility." – Ed McKinley, Flint Hills Resources
"What I liked best about this conference were the networking opportunities and getting to meet with people that are going through the same struggles that I'm going through in my company." – Ryan Retmier, RGP
"I appreciate how the APQC conference's networking opportunities provided an excellent opportunity to meet industry professionals and discuss the existing challenges and successes within the KM community." – Wale Junaid, Allstate
"The pre-conference workshops were very informative and useful. The conference sessions were applicable and varied. I appreciated that the conference demonstrates the value of APQC membership, without a heavy vendor/sales component." – Kelly Knight, CSAA Insurance Group
"The Brain guy was great!" – Mina Wilson, Sutter Health
"Excellent choice of topics and speakers. I particular liked the keynotes. As a new KM director in an immature organization, I am leaving with many useful and profound takeaways." – Martha Espeset, DEKRA Insight
---