Recently, I was asked to find organizations with CKOs (Chief Knowledge Officer). It occurred to me that I haven't really heard of one in recent memory. So why is that? While I don't have a definitive answer, I have a suspicion (a hope really): not only are CKOs not needed, we shouldn't want them. That may seem like an outlandish statement from someone who loves knowledge management, but there is a very good reason why we shouldn't lament the demise of the CKO.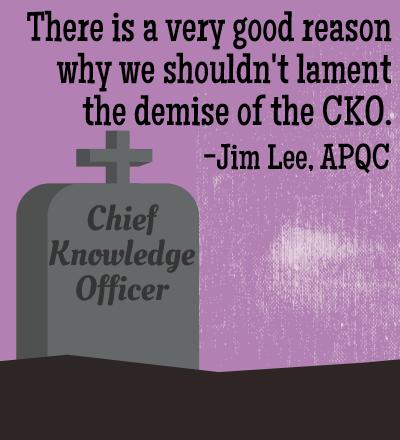 First and foremost, organizational knowledge management shouldn't be a function—it should be a capability. The difference in those words makes them worlds apart. A function implies constraint, clear delineation of roles, and perhaps even silos of responsibilities! Conversely, creation of new knowledge, sharing of expertise, and taking advantage of organizational expertise can, and should, be done by everyone in an organization, from the newest employee to the most senior, from the least paid to the highest.
To illustrate the differences between functions and capability I like to use quality management and mathematics. Every organization of any size has a quality department, likely one with a VP of Quality or similar title and responsibility. So if everyone is responsible for quality, why would organizations have a quality function? In the case of quality, there exist specialties and professional quality management needs that require extensive training, tools, and even customer requirements that must be met. Some of the needs of quality management just can't be done by anyone nor should they if we agree with Adam Smith (think The Wealth of Nations).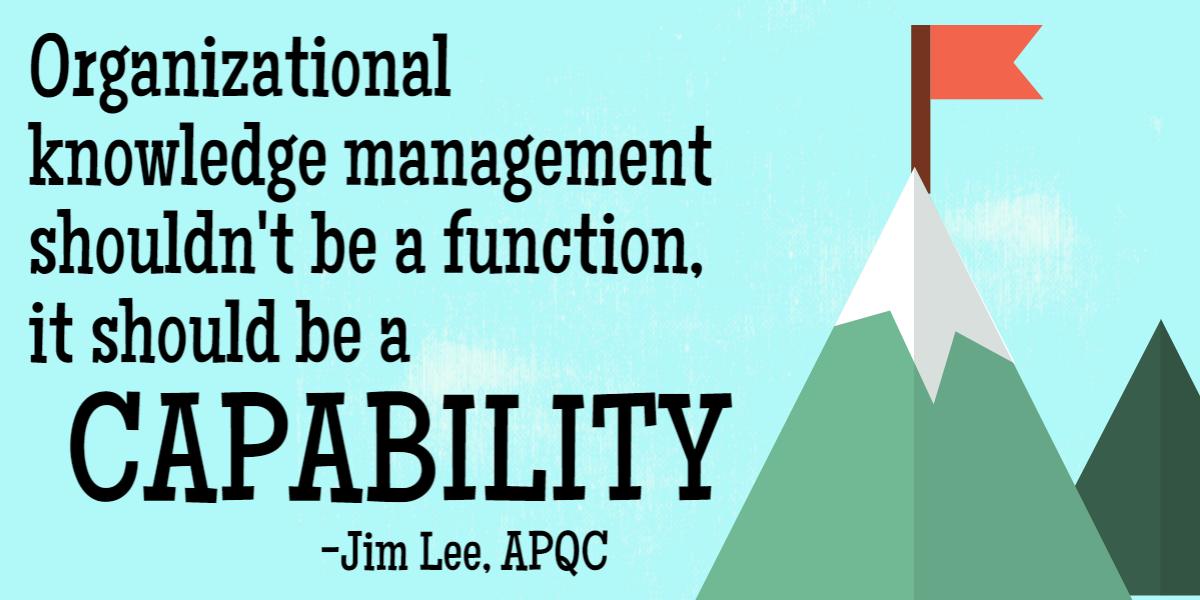 Now think of mathematics. For most people, we're not professional mathematicians (statisticians, actuaries and the like), but we still need to have some comprehension of mathematics to do what it is that we do. Not calculus-type math (I haven't integrated the area under a curve in over 30 years, and deriving third order differential equations is what caused me to flunk out of school), but at least enough math to do some real analysis when needed. For most people then, their understanding of mathematics is more than sufficient to perform their roles in an organization. In other words, everyone has the capability to contribute to the welfare and improvement of the organization using their math skills.
Now think of knowledge sharing. We may use the term knowledge management to describe the portfolio of ways to share our expertise, but the real behavior is the identification, sharing, and reuse of that expertise. Like mathematics, everyone should be able to do that, shouldn't they?
You've heard what I think; now see how best-practice organizations like Accenture, Lockheed Martin, and MetLife do it with our new KM guide, Structure and Staffing of Best-practice KM Programs.
You can follow me on Twitter @km_dude