Many procurement departments have gone as far as they can when it comes to leveraging price savings out of suppliers. Complete the Procurement Open Standards Benchmarking Assessment and help your department become a core competitive weapon and increase shareholder value.
By participating in this assessment, you can unearth new opportunities for: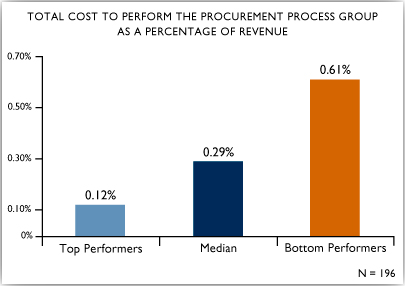 reducing the cost of materials and services,
increasing supplier on-time delivery rates, and
improving incoming materials quality.
Other key procurement measures included are:
average supplier lead time,
days payable,
total supplier appraisal and development costs, and
transaction amount per purchase order .
To guide you in your adoption of best practices and implementation of information systems, the report also reviews the following:
procurement system integration,
automated procurement processes,
degree of centralization, and overall procurement strategy of your peers as well as industry at large
There may be a fee associated with your participation. For more information, please check the Open Standards Benchmarking fee schedule.
APQC collects data using a Microsoft Excel spreadsheet-based system. Please click the "start assessment" button to download the assessment file. This file contains the survey, all related glossary terms, the measures computed by APQC, and a copy of the Process Classification Framework. You may review and complete this file at your convenience. Send the file as an attachment to osb@apqc.org when you are finished collecting data. For more information, please review our frequently asked questions.
If you would like to complete multiple surveys for multiple business entities or in more than one process area, or would like additional guidance, please contact the benchmarking Help Desk at +1-713-681-4020 or osb@apqc.org.