Accounts Payable and Expense Reimbursement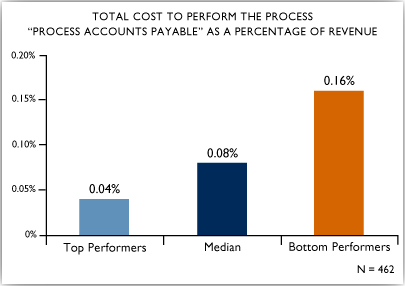 Find out where your finance organization has opportunities to streamline processes, minimize cost, and improve effectiveness of processing payables by completing the Accounts Payable and Expense Reimbursement assessment. Choose relevant peer groups for comparison and receive a validated report within two weeks of submission.
APQC's research indicates a significant positive impact for organizations that have taken full advantage of centralization, electronic processing, and standardization.
There may be a fee associated with your participation. For more information, please check the Open Standards Benchmarking fee schedule.
APQC collects data using a Microsoft Excel spreadsheet-based system. Please click the "start assessment" button to download the assessment file. This file contains the survey, all related glossary terms, the measures computed by APQC, and a copy of the Process Classification Framework. You may review and complete this file at your convenience. Send the file as an attachment to osb@apqc.org when you are finished collecting data. For more information, please review our frequently asked questions.
If you would like to complete multiple surveys for multiple business entities or in more than one process area, or would like additional guidance, please contact the benchmarking Help Desk at +1-713-681-4020 or osb@apqc.org.