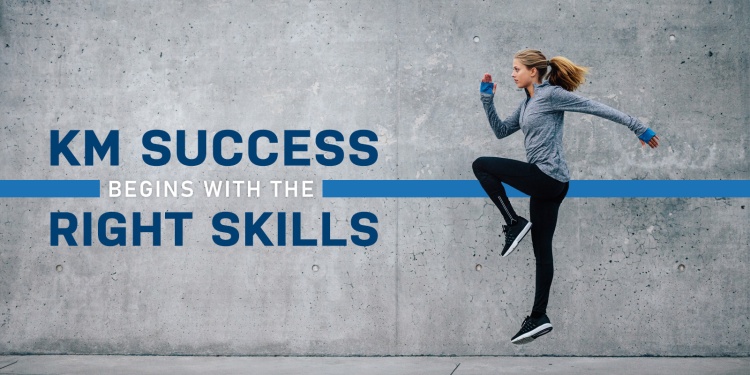 One of best—and hardest—aspects of knowledge management is that there's always something new to learn. A good KM team must continually refine its skillsets to accommodate emerging goals, techniques, scenarios, and technologies. Everyone on the team doesn't need to know everything, but at least one team member must be ready to tackle each new challenge, whether it's implementing an enterprise-wide KM communication plan or figuring out how to work with IT to incorporate machine learning into KM systems.
Late last year, APQC identified 16 core competencies for KM teams, grouped into four broad categories:
Project and program management
Consulting and customer centricity
Communication and influence
Content management, technology and data fluency
A quick scan of these categories demonstrates the diversity of skills required to succeed in this space. KMers need to know how to consult and communicate with stakeholders, plan and manage large-scale projects, and interpret data and technology well enough to select tools and oversee their implementation. All of this can feel like a tall order, especially for small, resource-strained teams! Partnerships with groups like IT and HR can help smaller teams fill the gaps, but this doesn't take away the need for them to build skills across a range of fast-moving areas.
KM Skills for a Rapidly Evolving Business Landscape
Obviously, KM programs need to cultivate a mix of people, process, and technology skills while seeking out "unicorns" who can speak both human and techy. But when we asked respondents to our latest survey which skills are most important to help KM teams respond to rapid change in the current climate, many zeroed in on aspects of communication, influence, and data fluency.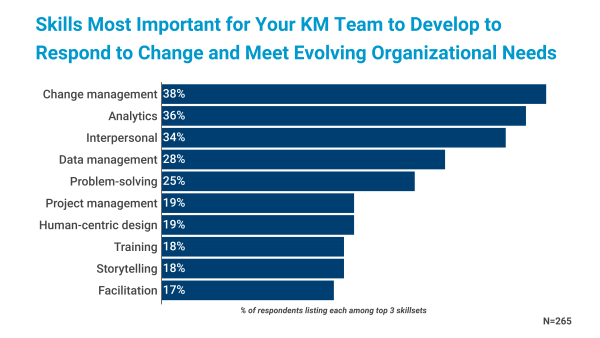 The need for people skills is not new in KM, but the current pace of change is requiring KMers to become expert change agents and hone related skills such as active listening, communication, training, storytelling, and facilitation.
At the same time, the growing sophistication of business data and analytics programs is forcing KM to upskill in that area. Some of these efforts are designed to help client business groups turn their data into knowledge and insights, whereas others are focused internally to measure and prove the value of the KM program itself.
Learn with Us
Can't wait to start building these in-demand KM skills? Check out the resources below.
Change management, communications, and training
Data management and analytics