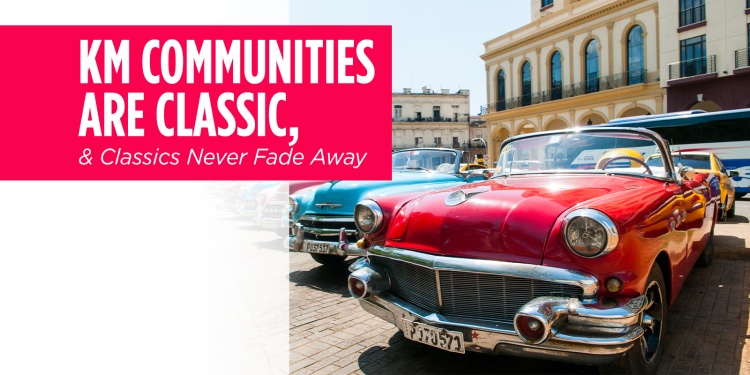 Despite our relentless preoccupation with every new tech trend, KM at its core is about connecting people. And in 25 years, KM has found no better way to connect people than through communities of practice. Communities bring together employees to share knowledge around a discipline, shared challenge, or other mutually relevant topic. They provide a place to innovate, network, learn, and solve problems. And while some communities are aided by cutting-edge collaboration platforms, many rely on simple tools like listservs and conference calls. What makes a community effective is not technology (though it can help)—it's the engagement of the members and the quality of the knowledge exchange.
Last month, APQC sat down with three of our 2020 Excellence in Knowledge Management recipients to discuss the secrets to community success. These KM veterans reinforced people and process basics, including articulating a clear business purpose for each community, picking the right leaders, and measuring and communicating community value. They also highlighted thoughtful ways to weave in technology, from improving community search to using communities to support digital transformation.
Below are highlights from our conversation with:
Faith Wainwright, Director at Arup;
Jaya Singh Panda, Chief of Total Quality Management and Corporate Quality Assurance at Tata Steel; and
Tony Wilson, Chief Knowledge Officer at the U.S. Central Command.
To learn more about how the 2020 Excellence in KM recipients optimize and sustain their communities, check out our new article, Achieving Excellence with Communities of Practice, which is publicly available for a limited time. You can also view the webinar with all our recognized organizations, An Interactive Conversation with 2020 Excellence in KM Recipients.
How do you ensure that communities are focused on the right issues that will help members as well as the business?
Faith Wainwright: First, you need to find the right leaders. Community leaders can be business leaders, but there may be other people in the organization with fantastic capability to fulfill this role. Community leaders need to be passionate about their work and respected in what they do. They also need to be imaginative—able to see what the community can be and engage people in that vision.
In terms of focusing on the right problems, you need to look at where the business is going. What are the big issues that everyone is working toward, and how can communities apply that to their area of work? At Arup, for example, we have been putting a lot of effort into digital transformation and digital change. We're asking every community to look at what that means for them, how they need to develop their skills to succeed in the digital future, and what their plans are to close those gaps.
Jaya Singh Panda: At Tata Steel, we have a very structured process for connecting communities to business objectives called Annual Business Connect. That's what we do from a process point of view, but I agree with Faith that you need leadership to make sure people stay focused on objectives. That's why we assign mentors who work with community members and leaders to make sure that the themes identified in the Annual Business Connect are worked on and that best practices and learnings are documented and shared.
We've also collaborated with Google to develop an internal search engine that makes data and information easily available to people. We find that this helps our communities progress faster and more effectively on the issues they're working on.
How do you connect people to communities and ensure they are participating and using community resources?
Jaya Singh Panda: We have a lot of different communities and sub-communities, so there are many opportunities for employees to find a group that's working on the issues they are interested in. Our communities have rich interactions with the external ecosystem—vendors, academics, experts—and that helps people learn and draws their interest. Moreover, community engagement is built through our organization's reward and recognition mechanisms. That keeps the knowledge cycle moving.
Tony Wilson: To actually get people together [in Department of Defense communities], you need to do the "blocking and tackling" of providing the fundamental tools and resources that help people connect. You need to make it easy for people to find contact information, create distribution lists and mailboxes, and you need to have a standardized website. That's the grunt work of connecting people into [our cross-functional planning communities].
How do you determine the value that communities provide to their members as well as to the organization?
Jaya Singh Panda: At Tata Steel, the KM charter is linked to measurable business KPIs, and the communities are linked to these targets. Every year, we carry out an assessment process to understand how communities have progressed against these targets. For community members, the value is in the enrichment of knowledge and learning that people get. It helps them avoid rework and make sure that when an issue arises, it's handled in a much easier manner the next time. KM delivers value in more than one way, apart from achieving those business KPIs.
Tony Wilson: For our organization, the value of KM is its contribution to the information flow in the Commander's decision cycle. That's a four-stage cycle: assess, plan, direct, and monitor. We have an information flow diagram that shows where people contribute to each of those aspects, so our community members know when and where they can plug in their contributions. In general, the community program is well-received and well-liked because it provides a way for people to get involved and get things into our plans.
What advice would you offer to a KM team that is just getting started with communities of practice?
Faith Wainwright: Think of creating communities as starting a movement. You can't make it all happen at once; it needs to build organically. People need to get excited, be inspired, and willingly volunteer to go beyond their day jobs to contribute to it. So, you really need to start step by step. Being overly ambitious will only leave you disappointed. It's like starting up a community garden. You can have a lovely idea about what the result will look like and the time people will spend in it, but nothing will grow until somebody starts planting something. Focus on a small beginning that is beautiful and inspires others to want to do more.
Jaya Singh Panda: It's very important to have a shared focus. When you create a community, there should be a shared purpose so that the team is rallying behind each other to create something meaningful.
Tony Wilson: I go back to what Faith said earlier about the importance of leadership. You need someone who has a clear vision and can lead others toward that vision. In the Department of Defense, we don't have the luxury of choosing who we want to lead communities, so we really focus on the roles and responsibilities, and then try to standardize the process.
To learn more about mature successful KM programs, see APQC's Excellence in Knowledge Management 2020 collection. For more on communities of practice, see KM Essentials: Introduction to Communities of Practice and Next-Generation Communities of Practice.