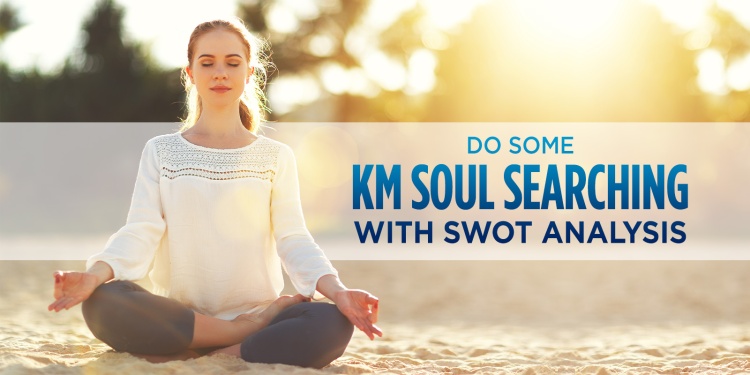 It feels like the world has changed overnight, and knowledge management programs must take a hard look at what they're doing to ensure KM priorities match organizational realities. APQC has many best practices and tools to help you with your KM strategy, but for a quick-and-dirty way to recalibrate and brainstorm where to go next, I particularly like the SWOT analysis. This simple two-by-two rubric lets you create an inventory of your KM program's current strengths and weaknesses, as well as opportunities it can capitalize on and threats it must guard against.
SWOT Analysis Rubric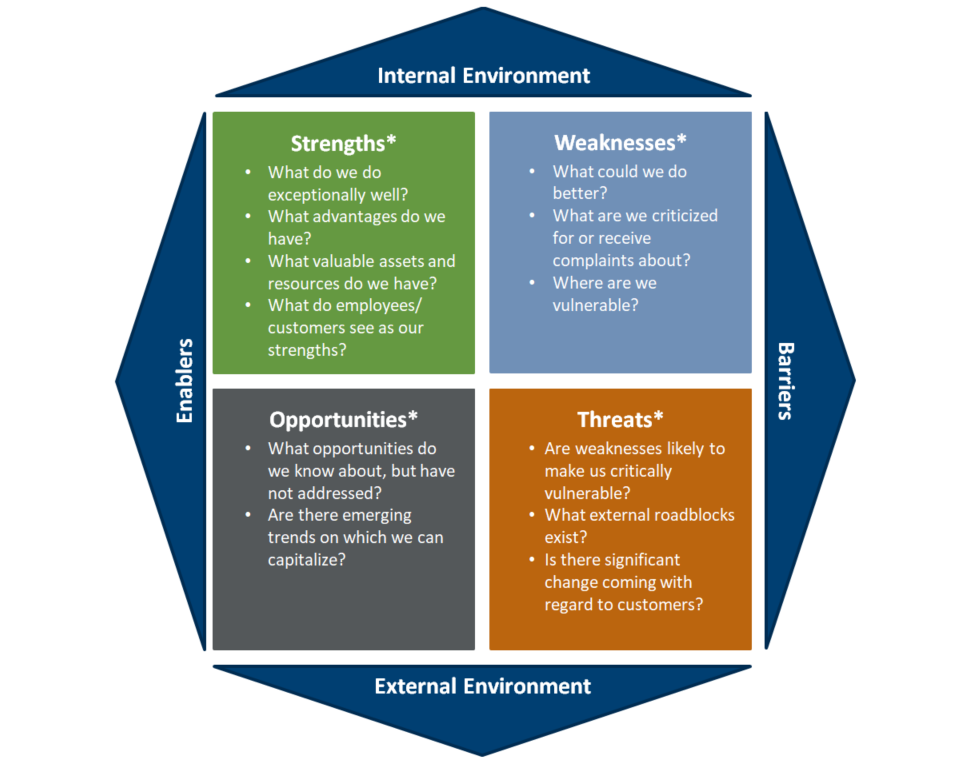 SWOT is a great way to highlight skills and assets that your KM team brings to the table and how they apply to the organization's pressing problems. What does KM do exceptionally well, and how can those core competencies help the organization shift to remote work and learning, cut costs through automation, and ideate around a new go-to-market strategy? The differentiation between strengths and opportunities ensures you think about both the innate capabilities of your KM program and the relationship to business and market needs.
SWOT also forces some soul-searching about the weaknesses of your current KM effort and any outside threats that could put you at risk. You can't make the current environment less volatile, but a hard look at where you're struggling can motivate you to confront flaws and head off looming hazards. For example, if your KM team lacks deep expertise in technology and your organization is mounting an initiative to use bots to automate workflows, now is the time to start building tech savvy while strengthening your partnership with the digital office.
Any KM team can create a SWOT to figure out what knowledge is critical right now and where it should invest its limited resources (check out this article for a how-to on the knowledge SWOT technique). But as every support function battles for resources, I've a been thinking about the big-picture perspective. As a discipline, what are the strengths that KM brings to the COVID-19 era, and what gaps leave KM vulnerable? Where can KM jump in and really make a difference, and what are the biggest risks to its survival?
Below is a list of top KM strengths, weaknesses, opportunities, and threats for 2020 based on my research and conversations with APQC members. This is a work in progress, so comment or message me to let me know what I missed!
Strengths
Relevant—KM's main purpose is to surface information and knowledge so that employees can be informed and make good decisions. These capabilities are particularly essential in a fast-moving crisis, when leaders and teams are frantically trying to react to new scenarios.
Adaptive—KM teams have evolved from back-office operators touting a standard set of services to internal consultants, scoping out projects based on changing business needs. This consultative mindset has allowed KM to move quickly and keep knowledge flowing, despite the shift to remote work and other unplanned process changes.
Open and Helpful—The best KMers are natural problem solvers, communicators, and change managers with tons of innate empathy for the business groups they support. These interpersonal skills help KM teams sense emerging needs, come up with creative solutions, and market those solutions in way that garners broad buy-in.
Vulnerable—The pandemic has obliged many of us to let go of our perfect, polished personas and be more real with one another, acknowledging the difficulties we face and the limitations of what we can do personally and professionally. This willingness to be vulnerable has, ironically, built trust between KM and other parts of the business.
Weaknesses
Opportunities
Threats
Budget cuts—Money is increasingly tight as we emerge from, or continue to slog through, the pandemic. KM must fight hard for its share of limited resources. Programs will not survive intact without a crystal-clear business case and business-focused metrics of success.
Short-term thinking—In a volatile environment, it's easy for fear to take over. If leaders and business groups become narrowly focused on surviving today, and everyone takes their eye off the long-term sustainability of the organization, KM may start to look like a "nice to have" instead of an essential capability.
Siloed thinking—Similarly, chaos and anxiety may incite people to protect their little corner of the business while losing sight of the big picture. Teams may hoard knowledge or decide they're "too busy" to share what they know.  Siloed thinking can also impede the KM team if it focuses on protecting its turf instead of partnering with complementary initiatives.
Scope creep—KM's adaptability and helpfulness have allowed it to act as a "first responder" in the pandemic response. But KM teams that stepped in to run virtual conferences, convert in-person courses to e-learning, and train employees on Microsoft Teams may struggle to extricate themselves from these extra-curricular activities. As KM flexes to support urgent needs, it must also protect its core mission: to facilitate the flow of critical enterprise knowledge.