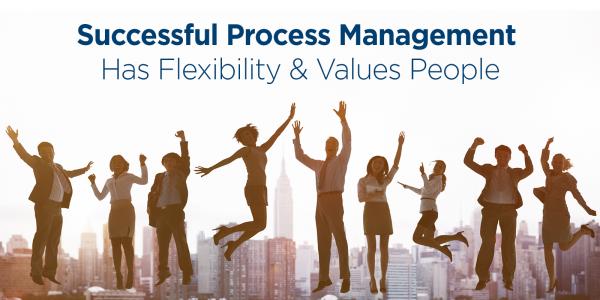 As we discussed in the last two blogs on digital technologies and people, speakers throughout APQC's annual Process and Performance Management conference focused around themes of digital transformation, human engagement, and a process foundation—to deliver organizational value.
In this blog we are going to focus on the final piece of the puzzle—process and its ability to tie the rest of the components together.
Process is a foundational necessity for organizations as they move through their transformations—be they digital or otherwise. End-to-end processes are particularly significant in today's environment and help organizations achieve that transversal view and bridge the gaps between their operational silos.
To that point APQC asked participants to help guide their ongoing research on end-to-end processes by submitting which end-to-end processes were most important to them. The most popular submissions were:
Issue-to-Resolution

Produce-to-Ship

Develop-to-End of Life (product lifecycle management)

Question-to-Insight

Forecast-to-Fulfill
APQC will incorporate these suggestions into its next round of development for its End-to-End Process Maps and Measures (Collection), which already includes common maps such as hire-to-retire, record-to-report, order-to-cash, procure-to-pay, and idea-to-market.
An End-to-End Journey
Diego Alvarado, process optimization manager, CMI; continued the conversation around end-to-end processes, which is a vital component of CMI's digital transformation, and shared lessons from  his organization's journey. The two biggest pieces of advice from Alvarado were: stay flexible and understand when you need to recalibrate your approach and don't underestimate the human element of change.
At the close of Alvarado's session, he asked participants to share their #processtoimprove for the coming year, which APQC converted the responses into a wordle. 
The hash tag responses fell into three categories:
Process management improvements

—included a wide range of improvements from better communications and stakeholder engagement to identifying measures to show the value of process efforts.

Specific processes

—included a combination of broader, end-to-end process (e.g., order-to-cash) and discrete or tactical processes (e.g., procurement).

Personal goals

—including professional development (e.g.,) to work-life balance goals (e.g.,)
Though most of the submissions fell into process management improvements, the variety of submissions illustrate how process touches everything from the projects we execute to our personal goals.
Bringing it All Together 
The conference concluded with an interactive panel session, to bring all of the themes together. During the panel session, process experts: Jeff Varney (director, advisory services at APQC); John Tesmer (director, Open Standards Benchmarking® at APQC); Carla Zilka (principal consultant, Slalom Business Advisory Services); and Paul Fjelsta (founder and president, accomplir Inc) discussed effective practices, approaches, and tools for best-practice BPM. Throughout the discussion, audience members participated in a series of live polling questions that helped shape the panelists' contributions and insights around process management topics such as: the role of process frameworks, necessity of strategic alignment, and impact of change management.
To learn more about these sessions  and conversations at the conference and the experiences shared, check out the presentation slides and written overviews from the sessions. The overviews, which summarize key points and takeaways from each speaker, are available to nonmembers for a limited time.
And if you don't want to miss out on next year's event, you can already register for the 2020 Process and Performance Management Conference.
For more process and performance management research and insights, follow me on twitter at @hlykehogland or connect with me on LinkedIn.