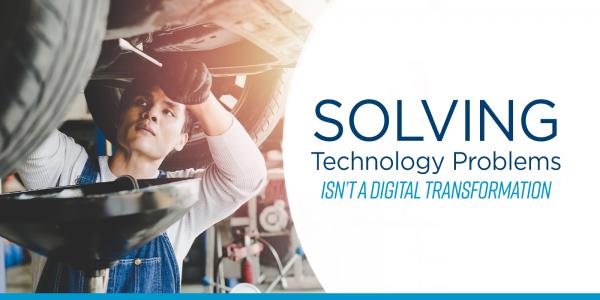 In early October, process and performance management professionals came together in Houston for APQC's annual Process and Performance Management Conference. This year's event—titled Driving Value End-to-End—focused on enabling better business outcomes by tying people, technology, and process together: human meets digital, enabled by process.  
In many ways, process management is well-positioned to help their organizations succeed in an environment fraught with silos and rapid-fire digital changes. Successful digital initiatives require a deep dive into process and data, which is a core process management skillset. Customer centricity is also an integral part of traditional process management methodologies like Lean. Finally, process managers understand organizational silos better than most, because we see the world transversally rather than in vertical silos.
Speakers throughout the conference built on these themes of digital transformation, human engagement, and a process foundation—to deliver organizational value.
In this blog we are going to focus on the first component—digital and technology.
Digital and Technology
Digital transformation involves the strategic integration of multiple technologies. Its primary components include digitalizing information, automating processes, applying analytics, and enabling digital interactions.
According to our research, the number one digital investment for 2019 is data management. Most organizations are still struggling with getting high-quality, usable data out of business silos, much less ensuring it provides meaningful insights.
Chris Dancy, known as "The World's Most Connected Person," kicked off the conference with a dive into the digitalizing information component of digital. Dancy discussed the massive amount of data out there and how to capture and synthesize information that helps you move away from caring about what you can measure, to measuring what you care about. To accomplish this, Dancy outlined five ways to tap into our technologies to take control of the personal and work data that really matters so you can understand and drive new behaviors. 
And as one of the primary components of digital transformation, understanding and organizing the vast amounts of data available is key to success and supports the rest of the components. However, a lack of effective data management is only one of the struggles organizations face in their digital efforts.
Me and APQC's Lauren Trees noted in our session, most organizations' digital transformation efforts are not true transformations. Instead, they're "solving" discrete and disconnected problems with technology and calling it a transformation. This means their efforts lack clarity, direction, cohesion, and change management. However, core support functions like knowledge and process management, can play an important role in helping organizations overcome the common reasons for failure and fix their digital strategies.
More pointedly, process and knowledge management professionals can help their organizations' digital efforts by filling three core roles:
Pathfinders—helping organizations establish their current state through techniques like process, capabilities, and knowledge mapping. Which creates clarity on where they are, what resources already available, and what type of solution is best fit to bridge the gap to where they want to go.
Great Translators—bridging that gap between the business and IT by translating business needs into requirements. So, that the technology solutions provide value and help the business accomplish its goals.
Pied Pipers of Change—using facilitation and change management skills to address some of the common roadblocks to transformation efforts. These include addressing fear, change fatigue, and reinforcing new norms and behaviors at the tactical level for the digital workplace.
In the next blog we will look at the human element.
To learn more about the conference sessions and the experiences shared, check out the presentation slides and written overviews . The overviews, which summarize key points and takeaways from each speaker, are available to nonmembers for a limited time.
And if you don't want to miss out on next year's event, you can already register for the 2020 Process and Performance Management Conference.
For more process and performance management research and insights, follow me on twitter at @hlykehogland or connect with me on LinkedIn.