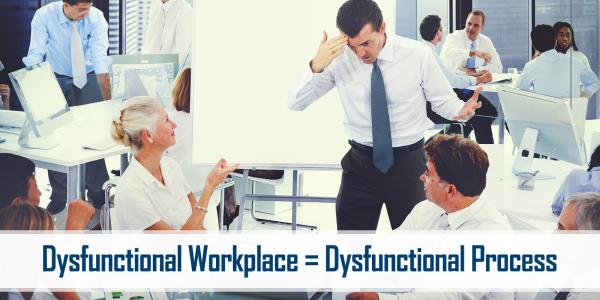 As we discussed last time, in early October, process and performance management professionals came together in Houston for APQC's annual Process and Performance Management Conference. This year's event—titled Driving Value End-to-End—focused on enabling better business outcomes by tying people, technology, and process together: human meets digital, enabled by process.  
In this blog we are going to focus on the human component.
The Human Element
People are at the core of any change within an organization. Whether we are working with front-line staff on process discovery and documentation or fundamentally changing how work gets accomplished through a transformation, we must stay cognizant of the impact of these changes and focus on engaging them in the journey.
Jane Walton, author and president of Jane Walton Consulting, explored the human element in her keynote about workplace ecosystems and change. When the workplace becomes dysfunctional and unbalanced, people become "jellyfish" who are unwilling or unable to change course. Walton stressed that, to prepare and bring people along for the change requires addressing workplace balance. Often the culprit in unbalanced workplaces is the environment not the people. Through solid change practices that drive personal accountability and clear communications and support help drive an outstanding work environment.
However, with more than three-quarters of organizations embarking on a digital transformation (according to APQC's research), change management is vital, particularly in light of the resulting expansive and rapid-fire changes impacting the workforce.
In a collaborative think tank at the conference, participants explored what change management means in this environment and discussed the most prevalent change challenges they face.
Too much at once.

The sheer volume of changes results in change fatigue and make engaging people that much harder.

Change interrupted.

The change initiatives themselves undergo several rounds of iteration or alterations. Requiring flexibility and continuous communications and re-engagement throughout the change journey.

Pervasiveness of silos.

While transformations require a holistic shift across business silos, most leaders are used to autonomous, siloed power. This makes it difficult to build the bridge between business units and steer the organization towards a collective goal or vision.

Behavioral shifts are vital.

Organizations tend to fall back on push communications during change initiatives. However, as one participant stated, "You can tell people to do ABCD, but how can you get them to actually do ABCD?"
All of which bundled up to a need to change rethink how we manage change. Check-the-box, style change management that focuses on one-way communication plans, and cookie cutter training are no longer enough to drive new behaviors and embrace changes to how we execute work. Instead organizations need to up our change game through: two-way communication mechanisms, customize training for roles, and tap into, incentivize, and prepare peer change agents and middle management to drive change from the ground up.
To learn more about these sessions and conversations at the conference and the experiences shared, check out the presentation slides and written overviews from the sessions. The overviews, which summarize key points and takeaways from each speaker, are available to nonmembers for a limited time.
And if you don't want to miss out on next year's event, you can already register for the 2020 Process and Performance Management Conference.
For more process and performance management research and insights, follow me on twitter at @hlykehogland or connect with me on LinkedIn.