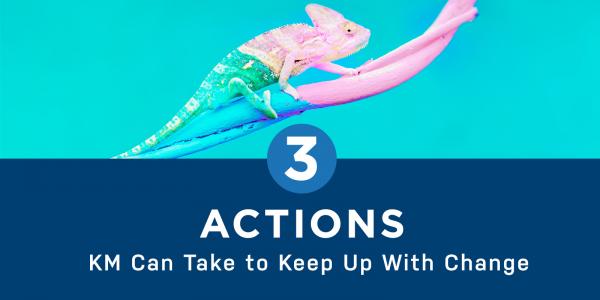 If you feel like your organization's strategy, structure, processes, and technology are evolving faster than ever before, you're not alone. Seismic shifts are the defining theme of the modern enterprise—and the swings and roundabouts just get bigger. The constant upheaval has implications for every part of the business, and knowledge management is no exception.
New technology is a major contributor to this vortex of change. Two-thirds of KM leaders say their organizations are undergoing some form of "digital transformation," which can mean anything from adopting AI to incorporating the Internet of Things. These digital projects affect both the big picture of how companies go to market and make money and the details of how rank-and-file employees complete their daily task lists.
But technology is not the only disruptor throwing the workforce for a loop. Evolving markets and customer demands are forcing companies to adjust their strategies, offerings, and supply chains. On top of that, many employees face changes in the fundamental makeup of the organizations they work for. We're in an unprecedented seven-year boom in mergers and acquisitions (M&As), and according to Deloitte, 63% of executives think the deals will just keep coming in 2020. Even when they're sound business, these M&As have a huge downstream disruptive impact on workers and day-to-day business operations.
How KM Can Keep Up
KM must adapt to these ever-faster cycles of organizational change to retain its strategic relevance. Let me be clear: I am not forecasting the death of knowledge management or suggesting the discipline is becoming less relevant. Companies need KM more than ever to help organize, curate, analyze, filter, and channel the sea of information everyone seems to be drowning in. But KM teams must update their outlook and practices if they want to support internal customers through big-picture strategy realignments, transformative digital projects, and M&As. In many cases, KM must shed its traditionally conservative back-office approach and become more fearless, proactive, and agile.
Here are three actions KM can take to keep pace.
1. Aggressively explore and pursue new technology. The days when KM could sit back and watch technology trends gain steam are over. Machine learning and AI are poised to revolutionize how we make sense of organizational knowledge. Forward-thinking KM teams are already harnessing these capabilities for AI-fueled search engines, content recommendation engines, expertise mining applications, and more. You should be experimenting, even if it's on a small scale with free cloud tools. KM programs with no budget for new technology still need to understand what's out there. You never know when opportunity will strike—and you should be ready.
2. Incorporate frequent feedback loops. KM needs to reinvigorate not just what it delivers to the business, but also how it designs solutions. If you're still evaluating your IT portfolio annually and using big waterfall projects to make changes, you're probably not as nimble as your internal customers need you to be. The KM programs achieving the best results are using methodologies like Agile and design thinking to continually reassess business needs and then iteratively design KM solutions in close partnership with the teams who will actually use them. These techniques often start with technology projects, but more and more they're being applied to lower-tech KM such as processes to transfer critical knowledge.
3. Build stronger internal relationships.  The faster things change, the harder it is for KM—or any function—to work in a vacuum. As technology and microlearning work their way into every aspect of work, KM must partner with IT, HR, and learning to produce integrated solutions. KM also needs close relationships with its business stakeholders to understand their strategic needs and quickly pivot as those requirements evolve. If your KM team has weak cross-disciplinary relationships, start reaching out and talking now, before you're in crisis mode.
How KM Programs Survive and Thrive in Turbulent Times offers more detailed advice on guiding your KM program through sweeping organizational change. I also encourage you to look at what our 2019 Excellence in KM Winners are doing as they are great role models for embracing KM's role in digital transformation and continually reimagining and reinvigorating KM's role in the enterprise.
How APQC Can Help
APQC has adopted "From Disruption to Innovation" as our 2020 KM theme. We are focusing our research and events on helping KM leaders understand emerging technologies, embrace new ideas, and transition to new ways of working. We hope you'll join us as we explore the disruptive forces affecting KM and ways to navigate change. Here are my top recommendations to get started.
Step 1: Take our KM Innovation in the Face of Disruption Survey by Wednesday, February 19. It takes 5 minutes, and the results will help shape our 2020 research.
Step 2: Register for APQC's 2020 Knowledge Management Conference. This week-long event will teach you about the tools and techniques shaking up KM and how real KM programs are achieving success through innovation. Our speakers will cover everything from KM's expanding role to the use of immersive storytelling and design thinking in building a knowledge-sharing culture.
Step 3: Check out APQC's Resource Library for help on every aspect of KM. If you have a question about what's out there, we probably have resources to get you started.
Step 4: Get in touch. I want to hear what you're struggling with and how APQC can help. Any member can schedule a call with me to get tailored research recommendations and guidance. I also want to hear what's going right. We are currently seeking KM case studies around digital transformation, enterprise content management, and Agile adoption. If you think you might fit the bill, I'd love to learn more.