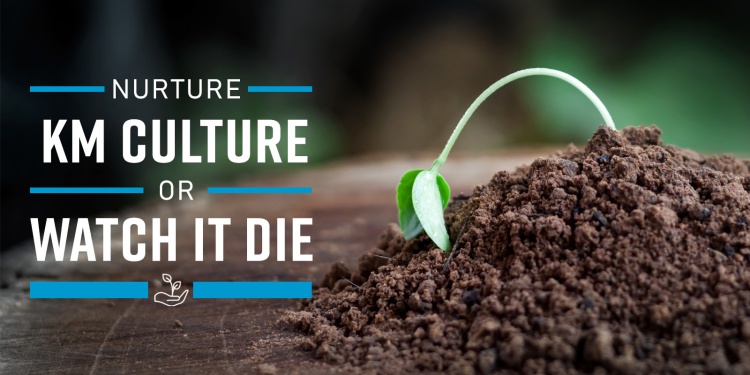 Culture is a powerful driver of knowledge management. All KM approaches are social activities in one way or another. Clearly, approaches like communities of practice and lessons learned work best when people trust and value each other. Even when someone searches for and leverages KM content on their own, there's a whole lot of cultural stuff that goes into making that happen. A supportive culture encourages people to seek out information when they need it and contribute content when they have knowledge others can benefit from.
Basically, culture is your organizational soil. When it's fertile, KM thrives. When its hard and rocky, KM struggles to take root.
Are you trying to cultivate KM in a challenging cultural environment?
Ask yourself the following questions:
Do leaders and managers exhibit non-collaborative behaviors such as knowledge hoarding, blaming and shaming, or not listening?
Is KM activity heavily concentrated in certain business areas and nearly absent in others?
Are subject matter experts isolated or overburdened?
Does the organization have high turnover, low employee satisfaction scores, or other indicators of workforce anxiety?
Are employees overwhelmed by or over-focused on individual performance goals?
Is KM not included in employee onboarding?
If you answered "yes" to three or more of these questions, your KM program may be facing cultural barriers to success.
Don't give up: KM can grow in almost any soil
Some leaders see KM itself as a way to change the organizational culture, but that's not usually how it works. KM can play a role in re-fertilizing the cultural soil, but that takes time. In the near term, it's best to focus on ways to help your KM program grow in the culture it's already planted in. Here's five ways to do that.
Learn with Us
Speakers from the Foster a KM Culture track at APQC's 2020 KM Conference will preview their sessions during a live webinar on Friday, March 6 at 10:00 am CDT. Join us to learn what has made them successful.