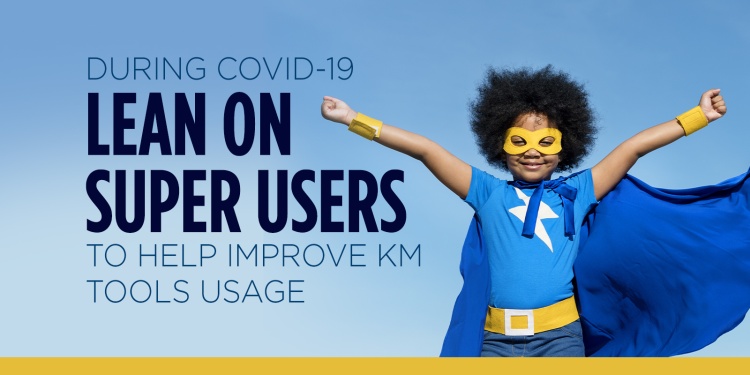 What are the best knowledge management tools to thrive during COVID-19? Collaboration platforms are the best-fit tools for our new normal of virtual work and fast-changing business needs. Collaboration platforms allow employees to share information, ask questions, and communicate with each other virtually. Common examples include Slack and Microsoft Teams, both of which have experienced a major uptick in usage since the coronavirus outbreak.
In particular, Teams has truly taken off because it's part of the Microsoft 365 suite that many organizations already moved to pre-pandemic. Some organizations were yet to deploy Teams, while others had rolled it out to varying degrees. But when the virus hit, organizations ramped up deployment to meet the need for fast-paced knowledge sharing and collaboration. "We hadn't been using Teams before, but it was pre-loaded on our computers," said Lindsay Minton, lead counselor at a large high school. "With the speed of resource sharing we needed to do, it was much better to manage that in Teams rather than clog up everyone's inboxes."
"The work I do relies heavily on collaboration with team members as well as various SMEs," said Andrea Lisi, an oil and gas geologist. "Since face-to-face discussions are no longer possible, my team has significantly increased our use of collaboration tools including Skype, Microsoft Teams, and WebEx. These tools have been paramount in allowing the same level of ongoing feedback that we used to get by walking down the hallway prior to the pandemic."
Clearly, the need for these tools is urgent. If you already have Teams, Slack, Workplace by Facebook, Google Hangouts, Chanty, or another collaboration platform available in your organization, it's time to create a plan for governance and training. Any of these tools can become a confusing mess if people don't understand their purpose. APQC recommends the following practices:
Partner with IT: Typically, IT owns this stuff, so work with them to ensure everyone has access and that the right controls are in place.
Clarify what goes where: Establish which content and conversations belong in different groups as well as which belong on different platforms altogether (e.g., your content management system or project worksites).
Establish naming conventions: Standardized naming conventions cuts down on redundant groups and helps people find what they need.
Appoint super users: Some people are naturally excited about and good at this tech, so leverage their enthusiasm to teach others and help the KM/IT group identify potential challenges.
If you don't have any collaboration tools yet, start gathering end-user needs and working with IT to find a solution that works for your organization. It's important to take a thoughtful approach to deployment—these are not "set it and forget it" tools. I spoke with a web developer who works at a healthcare services organization that adopted Teams post-pandemic, and his perspective sheds light on potential challenges. "With way less screen space while working on a laptop, and network drive access being unstable, I've pushed things more to email and away from SaaS project management and collaboration tools," he said. "Gen-Xers are still forcing things that could be on Slack or Teams to be calls."
In other words, you need the right technology setup and the right culture to make collaboration platforms work for everyone in the organization. That's why I invite you to join us for APQC's upcoming live KM Conversations webinar series, KM for a Smarter, More Automated World, which kicks off with presentations from Cognizant Technology Solutions and Mercer on Wednesday, May 20 at 12:00 p.m. CDT. On Thursday, May 21, the series continues, starting with a presentation from APQC at 11:00 a.m. CDT followed by an interactive Think Tank at 12:00 p.m. One registration registers you for all sessions, and anything you miss will be available on demand in our Resource Library. Don't miss out on this opportunity to learn from these leading organizations and from each other.