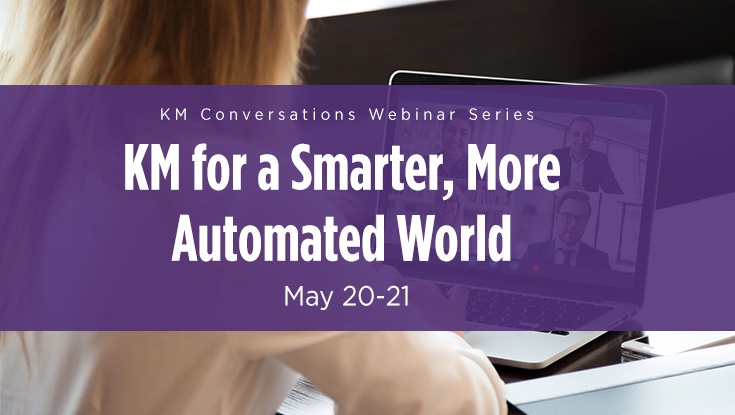 Automation, machine learning, and AI are changing how organizations approach KM. And as the pandemic creates disruptions and financial challenges, many organizations are relying more heavily on their digital infrastructure to support efficiency and business continuity. The third week of APQC's KM Conversations webinar series will focus on the latest emerging technology for KM. Find out how leading organizations are using intelligent tools to scale KM and maximize its value to the organization.
One registration registers you for all of the sessions below. Join us as you can during this week—anything you miss will be available on demand in our online Resource Library.
Session 1 - May 20 12:00 – 1:00 PM
Embedding Intelligence in KM | Cognizant Technology Solutions
Cognizant has enhanced its KM systems—making it more intelligent, innovative, and productive to the business and users by leveraging the power of AI and automation. Embedding intelligence in KM systems is of primary focus in Cognizant and the implementation of its "auto-serve" model to recommend knowledge and insights to sales and project teams based on their needs. This session will elaborate on the experience moving from a "seek" model (i.e., users seeking knowledge themselves through search and other mechanisms) to a "serve" model (i.e., systems auto-recommending knowledge to users). Participants will learn key aspects of Cognizant's KM transformation journey including business triggers, design, development, implementation, change management, and measurement, as well as the technology aspects of implementation detailing the platforms built/integrated and challenges faced.
Session 2 - May 20 1:00 – 2:00 PM
The Mercer Brain: The Brain Behind Content Findability | Mercer
As the world's largest HR consulting firm, Mercer relies on its intellectual capital to engage with prospects and clients. But despite having a wealth of information at its fingertips, antiquated technologies made it difficult to find content successfully. The KM team saw a huge opportunity to work with its digital colleagues to create the Mercer Brain. The Mercer Brain uses an artificial intelligence-enabled solution to modernize content management and search allowing for a single search across all Mercer sites and apps. This exposes clients to the organization's thought leadership more quickly and enables colleagues to find Mercer-wide content faster and more easily.
During this session, participants will see a demo of the Mercer Brain, and learn:
how this tool became a solution to one of greatest problems companies have—content findability; and
the importance of communication and change management when spearheading and driving an enterprise-wide change.
Session 3 - May 21 11:00 AM – 12:00 PM
Reframing Digital: From Project to Competency | APQC
True digital transformation is not a one-and-done acquisition of new technology. It's about building the strategies and skillsets that enable an organization to continuously leverage technology for competitive advantage. However, many organizations are struggling to move beyond discrete technology projects to manage digital work enterprise-wide. And many process teams are trying to figure out their role in digital, including how they can incorporate new technologies for continuous improvement while using emergent technology to reinforce their strategic value. Learn:
Four challenges organizations face in framing digital work
Best practices for overcoming those challenges
Process' role in the digital landscape
How successful process teams have applied best practices to their digital initiatives
Session 4 - May 21 12:00 – 1:00 PM
Think Tank: Knowledge Technology to Support Organizations in Crisis
The global pandemic is changing our relationship to technology. As social distancing went into place, we saw lightning-fast adoption of everything from telemedicine to online learning. And with a dual focus on cutting costs and minimizing human contact, it seems almost inevitable that organizations will embrace more automation and artificial intelligence in the coming months. In this session, experienced practitioners will lead a discussion on emerging technologies for KM, with a focus on those most likely to help in the wake of Covid-19. This will be a facilitated discussion, so come ready to ask questions, share ideas, and build on the ideas and experiences of others.
View past Webinars