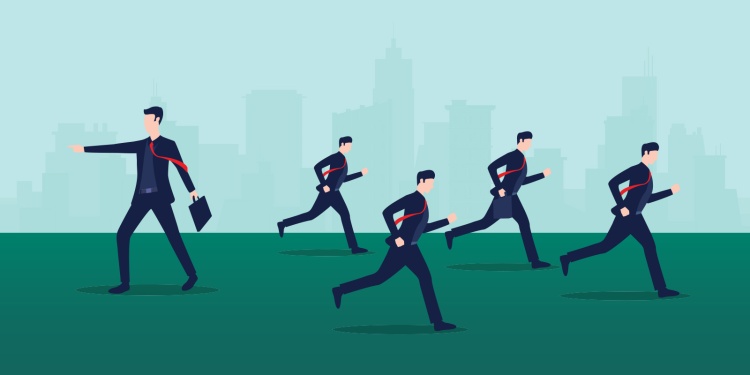 Digital transformation is no longer a competitive edge in supply chain, with more than three-fourths of organizations in the midst of such a change. With the vital role supply chain plays in organizational success, leaders are responsible for enabling digital transformation. One question I get asked often: how can supply chain leaders help their organizations manage digital change and make digital transformation a reality? Here are five tactics for managing digital change in supply chain.
PROVIDE CLARITY THROUGH DEFINITIONS
Too often, important terms and concepts related to digital remain unclear simply because it's no one's responsibility to define them. Organizations need definitions to set the parameters that define the scope and avoid scope creep for the transformation. Leaders should document and socialize three core definitions.
First, determine what digital change means for the organization.
Second, define what digital looks like for the organization—that is, what "counts" as digital transformation work, how digital work is managed, and who works on it.
Third, explain how digital transformation will help employees reach their goals.
BREAK DOWN SILOS
Many organizations face scoping challenges in their digital transformation efforts, often caused by organizational silos. The digital transformation portfolio can become bloated if groups across the business aren't working from the same strategy and communicating with each other. The solution is to develop a holistic governance and oversight structure that provides all areas of the business with the same guiding principles and pathways for getting digital work done.
While supply chain leaders may not have the final say in what their organization's digital governance structure looks like, they can be important contributors in two ways.
Present ideas for what the structure might look like. Successful examples from other organizations, like those in this article, are a useful starting point.
Position the function as worthy of inclusion in the digital governance structure. Consider not just what the function wants from digital, but also what the function can add to digital transformation efforts. For example, start thinking about who could serve as a "digital lead" for supply chain.
CREATE A STRUCTURE FOR DECISION MAKING
Successful digital transformation hinges on decision-making criteria. Without some guidelines as to what qualifies as a digital project—and which projects should be prioritized—the overall portfolio will become disjointed. Project selection criteria and categories should be standardized and transparent.
Three simple selection criteria for digital projects are:
Feasibility—Can we build it?
Usability—Will people use it?
Viability—Is there a business case behind it?
To assess, prioritize, and determine oversight for digital projects, three project categories an organization can embrace are:
Critical projects – projects that pose a risk to the organization in terms of reputation, cost, or legislative compliance
Routine or infrastructure projects – projects at the next level down usually involving infrastructure and wide-reaching business system upgrades
Process improvement projects – projects that focus on department-specific improvements that require resource allocation
EMBRACE A FLEXIBLE MIX OF METHODOLOGIES
Because digital transformation work is highly diverse, best-practice organizations tend to use a mix of methodologies for digital work. Some projects are fast, easy, and cheap to implement. Others, though, are intense efforts that require significant approvals, planning, change management, and training. Thus, it's important to have different methodologies to suit different kinds of projects.
Agile: cross-functional teams work in short sprints to deliver features incrementally. This provides digital teams with more opportunities to refine and course correct.
Design thinking: emphasizes co-collaboration with customers/end users. This helps ensure digital efforts focus on real needs and prevents distraction when it comes to technology.
Process improvement: since much digital work is about automating processes or finding ways to make them better, you can't do that if you don't understand the current-state process.
For supply chain leaders, the action item here is to get comfortable with a variety of project execution methodologies and socialize them with key stakeholders. These methods can inspire new ways of thinking around all kinds of challenges and goals in the supply chain—not just digital transformation work.
MAKE THE CHANGE STICKY
You can have the best technology tools available, but they won't deliver value if people don't use them. Here are four ways to make digital change stick:
Focus on Culture Shifts: Culture is a powerful driver of employees' ability to understand, accept, and engage in organizational change. Think about culture as a set of behaviors, rather than a vague list of ideals and values. Per author Daniel Coyle there are three key behaviors of successful cultures: build safety, share vulnerability, and establish purpose. When you're asking people to use new technology, you need to create an environment where they feel safe asking questions and making mistakes. You need to demonstrate that vulnerability and risk is shared among all. And perhaps most importantly, you want to have a clear and shared sense of purpose around digital efforts.
Target Real Behavior Change: Smart digital teams focus on changing behaviors. It starts with understanding current-state behaviors and then defining desired future-state behaviors. Provide training to teach and coach employees on desired behaviors, monitor their progress, and reward them.
Define Responsibilities by Role: Everyone has a role to play in enabling digital change, but it's especially important to clarify leaders' roles. Although some distribution of responsibilities occurs naturally, APQC recommends formally recognizing and scaling leadership roles in change management.
Build Flexibility in the Face of Disruption: The pace and scale of disruption is ever-increasing, especially within supply chains. With a shift (that may outlast the pandemic) to working from home, supply chain leaders need to make sure they have the digital technologies to enable successful long-term remote work. This flexibility will enable organizations to continue to service their customers no matter where employees are located.
Key Takeaways
Perhaps the biggest overarching roadblock to successful digital transformation is thinking of it as an end in itself. Digital transformation always should focus on the work that the organization and its people are trying to accomplish. Try to think of digital transformation as a strategic tool in your supply chain management toolkit.
To learn more, please see the following resources:
To continue the conversation, follow me on Twitter at @MB_APQC or connect with me on LinkedIn.