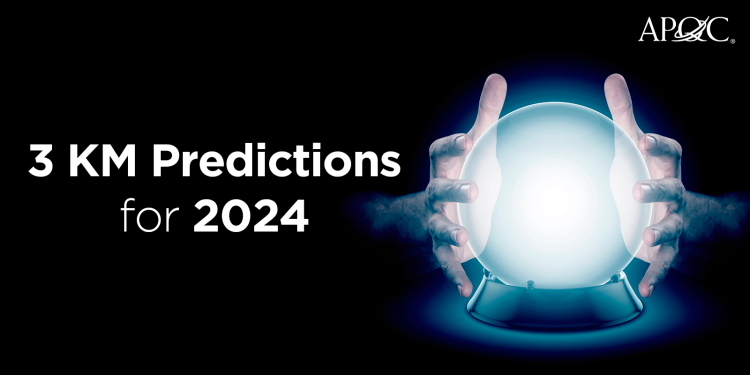 Business leaders continue to see the connection between knowledge management (KM) and overall success for their organization. A culture of knowledge sharing and collaboration, along with well-documented and accessible knowledge, helps organizations develop and engage employees throughout the lifecycle of their careers. KM continues to impact not only employee engagement but also productivity and innovation which are necessary outcomes to evolve and respond to a constantly changing world. 
While KM teams continue to capitalize on this momentum, there are many new opportunities along with new and continued challenges. Below are some of our predictions for KM in 2024 and what obstacles the discipline may face. To help us see the future more clearly, please contribute your perspective by taking APQC's 2024 Knowledge Management Trends and Predictions survey. We'll share the results early next year. 

1.  KM will be instrumental in the new era of AI
Artificial intelligence (AI) empowers organizations to analyze large amounts of data, use it to make better decisions, improve customer experience, and many more benefits we haven't thought of yet. Implementing AI successfully requires developing a valid business case and ensuring clear alignment to organizational objectives; along with dedicated investments of time and money, leadership support, and effective change management to increase employee buy-in and the proper usage of new tools.

In a recent survey, we asked participants the following question: "which of the following most closely describes the extent to which your organization has deployed machine learning and artificial intelligence in its processes?", we learned that 46% of respondents were still in the evaluation phase, followed by 26% in the piloting stage. Only 14% were in the process of implementing technology into KM processes.
While experimenting with new technology can be exciting, in 2024, organizations will need to begin moving from experimentation to wider-scale deployment and implementation in order to reap the benefits of new machine learning and AI tools. According to our members, some of the critical success factors related to the role of technology in KM will be:
aligning to and solving real business problems

improving productivity and knowledge flow

evolving user experience and adoption

capturing corporate knowledge

increasing leadership sponsorship, advocacy and resources
To learn more about AI and technology for KM, consider these additional resources: Challenges, Opportunities, and Critical Success Factors for AI  and The Role of Technology in KM. 
2.  Content management becomes more prevalent and continues to evolve 

Content management is the application of a structured process to store, deliver, and facilitate access to enterprise content. Enterprise content may include standard processes and procedures, vetted expertise and best practices or tools and templates. While the definition of content will likely not change, managing content will only continue to grow in its importance and priority with the onset of tools like generative AI. Any AI tool is only as smart as what its seen and read before. So, having your content organized and findable is critical to fully realize the benefits of these advanced tools.
But what if traditional content management doesn't look the same going forward? How could it look different in an era of AI? Will structured approaches and taxonomies of the past meet the needs of the future? These questions and more will need to be answered as we progress with AI and other advanced technology capabilities. 
For now, KM leaders and professionals should stay focused on good content management and remain proficient in current technologies like traditional enterprise search, while preparing for more advanced technologies like generative AI. Some things to consider in content management: 
Remember today's best practices in content management include the 3C's: 1) curation of relevant content, 2) consistency of approach, and 3) customer focus. 

Tomorrow's best practices may require us to think differently about how we approach curation and leverage automation to make the most relevant content accessible to meet customer needs in the future.
To learn more about content management, APQC recommends these additional resources: Why is it important to think about content management before AI? and Reasons To Invest In Content Management | APQC.
3.  KM will continue to be a critical driver of organizational agility and productivity
Organizational agility is defined as the ability to identify opportunities and risks quickly and execute on these areas that align with the organization's overall strategy. Agility is all about building effective strategic responsiveness and organizational flexibility into the culture. Productivity typically encompasses both efficiency (doing things right) and effectiveness (doing the right things). KM approaches and capabilities continue to contribute to both agility and productivity through effective identification of critical knowledge gaps and ensuring a culture of knowledge sharing, documentation and accessibility is in place to enable employees and ultimately organizational success.
But there is more to this story. KM requires a holistic strategy and approach that includes a focus on people, process, and technology. And the people aspect continues to remain the greatest challenge for most organizations. In APQC's last three priorities and trends surveys, change management was identified as the top skill for KM teams to focus on and continues to gain ground on other important skills. 
 
Change management is ensuring the people side of any change, process or technology, is considered before, during, and throughout implementation. For KM to make an impact, employees need to change how they work by adopting new tools, processes, and/or behaviors. Ensuring there are plans in place to manage communications, employee resistance and engagement, coaching for leaders, training and rewards can ensure the success of any KM implementation. The more momentum KM gains and the more upskilling KM professionals can do with change management, the more KM will impact organizational agility and productivity.
Remaining agile, managing change effectively, and embracing technology trends like generative AI can help KM programs ensure critical knowledge is preserved for generations to come. 
To learn more about the role KM can play in your organization and how KM teams are leveraging change management, consider these additional resources: 2022 KM Program Benchmarks and Metrics Survey Report and Making Change Management Mindful.
Where do you think KM is headed next year? Let us know your predictions by taking APQC's survey