SKU: K04784
Thumbnail: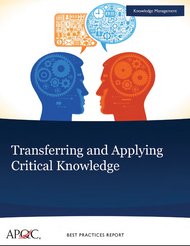 Review Date:
Fri, 12/16/2016 (All day)
39550
0
In recent years, APQC has noticed a renewed sense of urgency among those responsible for knowledge capture, transfer, and reuse inside organizations. In some cases, demographic shifts in the work force are behind this growing interest: The Baby Boomers are finally starting to retire, and firms must help long-tenured leaders and experts parse the knowledge they've acquired over 20 or 30 years, identify what is truly vital, and pass those nuggets on to the next generation. However, the breakneck pace of change—especially in certain fields—also contributes to escalating concerns around knowledge transfer. Competitiveness depends on knowledge and innovations moving quickly through the organization, and employees need broad and deep expertise to develop the integrated solutions demanded by customers. At the same time, new technologies make it increasingly difficult to pinpoint critical knowledge among the masses of data and information available.
To help organizations deal with these challenges, APQC has developed 19 best practices for identifying, capturing, transferring, and applying knowledge. Download the report and find out how best-practice organizations Accenture, Kraft Foods Group Inc., Lloyd's Register: Marine, Lockheed Martin, U.S. Department of State, and Wipro Ltd. capture critical knowledge and make it available for reuse.
445