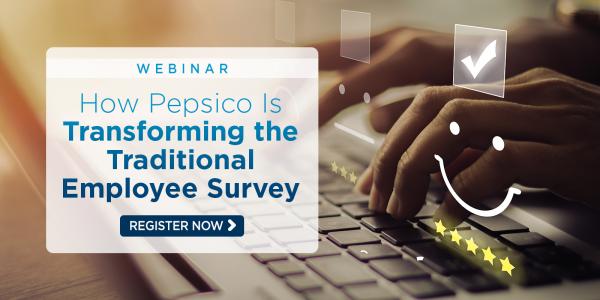 You've seen the statistics. 30% of employees in the United States, and 16% of employees globally, are engaged at work. Clearly, corporate employee engagement programs are not working. But why? And, more importantly, how can they be improved?
Why do so many employee engagement programs fall short?
The answer: We're still using traditional engagement approaches for a workforce, workplace, and business world that has substantially changed.
APQC's recent survey on employee engagement illustrates this reliance on traditional over newer engagement approaches. Among the 231 engagement programs represented:
80% use an annual, all-employee engagement survey, while only 42% use shorter, less frequent pulse surveys aimed at a sample of employees.
64% use analytics to inform the employee engagement strategy, yet only 25% conduct employee sentiment analysis.
How can employee engagement programs be improved?
The answer: We need to stop using old approaches to solve new challenges, such as:
Engaging a diverse workforce
Engaging a workforce that frequently moves between teams and employers
Engaging workers whose tasks are being dramatically altered by new technologies and business models
Engaging workers who have consumer-grade expectations for employer responsiveness and personalization
Traditional engagement approaches like the annual all-employee survey can't keep up with these new work world dynamics. And, the results of our engagement survey reflect this reality. While 74% of engagement leaders told us that retention is a top engagement program objective, only 24% said that their engagement practices have been highly effective at reducing voluntary turnover.
What engagement practices would work better?
Answer: Practices that leverage technology and analytics as well as experience design methodologies are the path forward. Together, they provide employers with a new toolkit for better understanding what employees need and want right now.
When we look at the most successful engagement programs in our survey, we see that they are significantly more likely to be tapping into this new toolkit, and introducing newer, more innovative engagement approaches including:  
Using internal social chatter as an employee listening technique
Conducting employee sentiment analysis
Identifying touchpoints that matter in the employee experience
Many of these innovative approaches involve more frequent and richer employee listening. Has your organization made changes to how it listens to employees? Is your organization adapting its engagement program to the new realities of work? If your organization—like 60% of those in our survey—plans to increase spending on employee engagement over the next 12 months, the time for innovation is now.
APQC members can learn from an engagement innovator on November 11th when Christopher Rotolo, vice president of PepsiCo's global talent management and organization development, presents a webinar on how PepsiCo is using "intelligent listening" to transform traditional employee survey practices to drive business success.
Not an APQC member? Check out the results of APQC's employee engagement survey to get  insights on how to improve employee engagement—and to see an example of the kinds of timely data and guidance that an APQC membership offers.