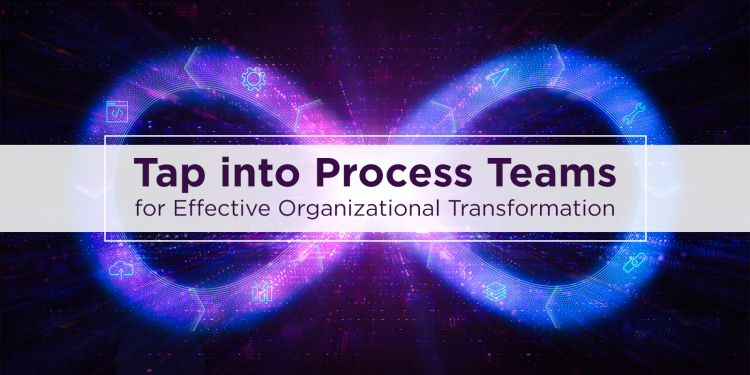 Process professionals are tapped to support a growing array of projects. Supporting organizational transformation and the execution of transformation projects is one way process teams provide high-profile, intrinsic value to their organizations. 

Organizational transformation can include shifting the existing business model, structure, or even culture to stay competitive or adapting to shifts in the business environment or customer needs. Consequently, transformations tend to be large-scale changes with heavy investments in time and resources, as well as a deep understanding of how work gets done. 

Given that transformations efforts have a broad span and require heavy investments in time and resources, it's important that organizations get them right. Hence it makes sense that our research indicates the majority of process teams (54%) support organizational transformation. Typically, this means they are tapped to assess and redesign processes and drive cultural shifts alongside the adoption of new behaviors through change management and soft skills. 

Process Teams in Action 

While more and more process teams play a strong supporting role in their organization's transformations, how they do this varies. Consequently, there are several variations on what that support includes. 

For example, the Vancouver Fraser Port Authority underwent a cultural transformation in its efforts to amalgamate three port authorities into one entity. Part of the transformation included the emphasis on continuous improvement as a core value. Consequently, in addition to HR's role, the process improvement team is also responsible for supporting the cultural transformation by evangelizing and embedding a continuous improvement mindset throughout the organization. 

An automotive company was shifting from a cost-driven to product-driven organization. The purpose behind the transformation was to make the organization agile in order to keep pace in the rapidly changing environment, hone its competitive edge, and deliver value to its customers. Hence the transformation included taking a hard look at redefining its capabilities in leveraging capability modeling, portfolio management, Design Thinking, Lean, Agile and Kanban methodologies. 

While at a large university its business process management office (BPMO) was transformed into the business transformation office (BTO). Now the BTO team provides support for strategic initiatives, technical projects, and change projects across the university. Its service offerings include process architecture, transformation architecture, change management, and automation.

Regardless of the organization, transformations require understanding the current state, making plans to move to the future state, and bringing people along for the journey. All of which are skills that process teams excel at. So, whether the team is tapped to redesign how the business accomplishes work or embed new behaviors and values into the business, process teams help the organization get the transformation right the first time. 

For more information on this topic check out: Organizational Transformations: Process Supporting the Business

Next time we will discuss process teams and their role in technology implementations. 

For more process and performance management research and insights, follow me on Twitter at @hlykehogland or connect with me on LinkedIn.