It's almost 2017. The accounts payable (AP) manager has an abundance of technology innovations from which to choose to make the process run faster, better, and cheaper. For example, there are workflow automation solutions that help to reduce duplicate payments, late payments, strengthen internal controls, and support audit efficiency.
So it's disheartening to find that there's still so much manual data processing going on, which, of course, opens the door for errors and fraud, never mind a big punch to staff productivity. APQC's Open Standards Benchmarking® data show that 58 percent of invoices, at the median, are still manually keyed into the financial system.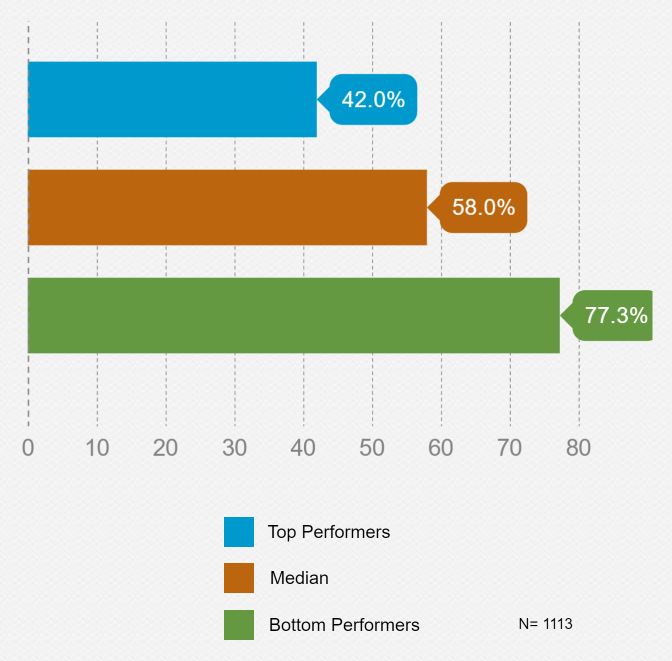 Meanwhile, APQC research shows that three-fourths of finance functions are currently under some mandate to reduce cost; and automation is an obvious choice to streamline a very transaction-oriented process. Consultants at ScottMadden, Inc. told me that a traditional in-house staffer (salary plus benefits) may cost $100K per year, while comparable offshore support may cost $38K per year; robotic process automation could translate into a mere $13K per year.
Further evidence resides in a recent webinar I did with APQC's Matt Norman, Blueprint for Success—Process Efficiency in Financial Operations: Accounts Payable and General Accounting (Slides). The top performers pay less than one half of the cost incurred by laggards to process invoices, and their labor productivity more than doubles.
So how is paper still a thing?
Automating a heavily transaction-oriented AP process is not a solution that can be simply switched on. Yes, a robotic process automation application can allow a finance function to have software capture for processing an invoice, and that app can communicate with other digital systems. But the finance function first needs someone who can calculate the ROI of investing in enabling technology and then someone who can actually manage the software.
A finance function also needs a firm grasp on what process it is automating. Much in the same way that outsourcing can fail to meet expectations, automation won't help without the finance function first mapping out work stream goals, activities, and process design. Streamlining—and often fixing—the transactional process is paramount before you can bring in the technology to take over. As has been simply stated before, you can't automate what you don't understand.
This is no minor point. At APQC's recent Process Conference, Will Thomas from Signavio estimated that 25 percent of operating inefficiencies exist just because people don't understand their processes. This makes perfect sense. Before automating a process, the finance function needs to understand internal customers' needs and expectations, map and streamline its transactional process, and create measures that align with organizational mandates. With that upfront work, finance functions can join top performers who have leveraged automation in a well-planned manner. A disciplined process comes first.