Why Process Models and Value Chains Are Critical to Success

APQC asked process management experts about the importance of value chain in process improvements, and tactics to create sustainable improvements. These experts will be speaking at APQC's Process & Performance Management Conference October 1-5.
The roundtable participants include:
Doug Palmer Vice President, Product & Process Quality, ARRIS

Ronald Ross, Business Rule Solutions LLC

Roy Barnes, Blue Space Consulting Group
How do smart organizations incorporate the value chain in their process improvement efforts?
Doug Palmer: One of the first things I ask a business, when working in a process improvement capacity, is what is their value chain map? Specifically, do they have a map that depicts the end-to-end flow of materials, parts, information, products, and services from their vendors, through their business, and out to their customers. If they don't have one—and many don't–we create it on the spot. It's that important. This 'big picture' map lets you see the 'forest' and further map time, cost, effort, pain points, and opportunities in specific areas. All of which makes it a great communication and analysis tool. It's main benefit, however, is helping guide the right mix of (horizontal) end-to-end process improvements versus (vertical) local process improvements to ensure optimum business performance.
Ronald Ross: Most organizations today are not just working in functional silos, but semantic ones as well. A value chain model allows you to see the big picture of how customer value is created across organizational functions. We recommend creating a common concept model across the value chain to ensure business vocabulary is consistent and unambiguous. A key goal in value chain thinking is to de-silo current processes. And there is no way that can happen if miscommunication and misalignment remain. Getting people on the same page conceptually is a key step for enterprise-level process improvement.
Roy Barnes: Customer experience is the sum of all the interactions that a customer has with an organization. That means that each customer facing process, no matter how big or small, is contributing to the overall experience.
In addition, optimization for effectiveness and efficiency, each process must be designed or "tuned" to deliver the intended experience. This requires process managers understand not only the importance of each individual process to the customer experience but also how that process interplays with the other processes the customer is interacting with.
Effectively putting the customer at the center of everything is a paradigm shift that requires process managers think about the entire ecosystem of processes and their impact on the customer experience.
In your experience, what is a key tactic organizations should use to make improvements sustainable?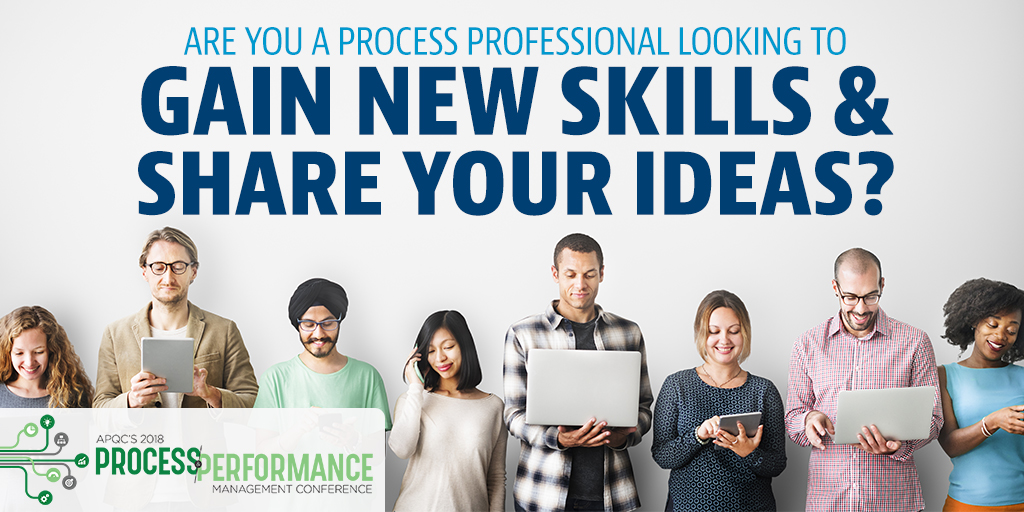 Doug Palmer: A few years ago, we ran a study on why some of our larger process improvements didn't 'stick'. In fact, the project code name was 'Project Sticky'. From this analysis, we instituted several changes to our 'process development' and 'process maintenance' frameworks, including the following tactics/requirements:
there's an active process owner leading an active process governance team that monitors/manages the process that incorporates the proposed improvement,

the business case for the proposed improvement is signed off by the process owner and process governance team, who hopefully participated in its creation, and

a formal process launch occurs consisting of excellent communication, training, and exponential rollout starting with a single, successful pilot launch.
Without these 3 elements—early buy-in, launch excellence, and on-going process ownership— many well-intended improvements will not survive its announcement.
Ronald Ross: Organizations are highly-complex, multi-component entities. Business-side blueprints to work from are essential. A value chain model is one of those blueprints. A concept model for shared business vocabulary is another. You need something to work from to make re-alignments last, as well as ensure they are vibrant and continually reinvigorating. Business architecture is the thing. But remember, business architecture isn't just one thing – it's a set of things. And it requires organizational coordination on a continuing basis.
Roy Barnes: The first step is to declare "what really matters" in terms of the customer experience. A clear customer experience intent statement is job one. Most organizations don't accurately describe what they want the customer experience to be and that is a critical error. If, for example, your customer experience objective is to be "trustworthy" and "easy to do business with", then you'd better create leading and lagging measures for trust and ease that can be measured at both individual touchpoints and across the enterprise.
Frankly, if you don't know the intended experience you want to deliver, you can't determine the right customer experience measures.
Why do process maturity models matter so much in managing and improving processes?
Doug Palmer: What I deeply appreciate about process maturity models is their ability to help us understand a process' potential and how to get there. Specifically, based on the successes and failures of those who came before us enshrined in the model. They also help us gauge the distance from a current "as-is" state to an improved "to-be" state. Which in turn informs us on when to break down bridge-too-far gaps into more manageable improvement chunks. And for those of us who insist on defining the line between 'continuous improvement' and 'improve by exception', a maturity model can help identify the point of diminishing returns. My own preference is for a lightweight process maturity model, which I'll explain further during my breakout session.
Roy Barnes: Start with the customer's real actions first and then map your internal processes to their reality. The best way to start is creating a simple customer journey map. Then build internal process maps that show which processes support each of the customer touchpoints, identified on the journey map
Tweet