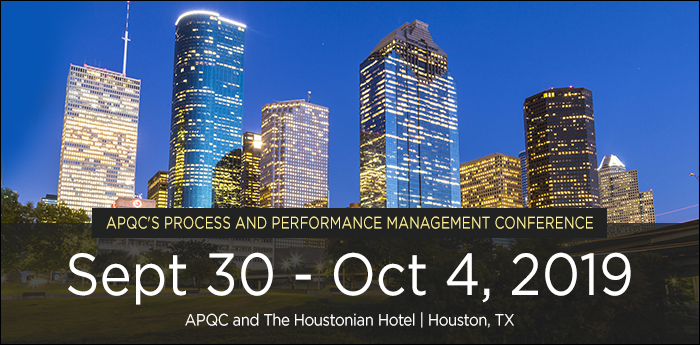 click here to read a RECAP OF THE 2018 CONFERENCE
---
About the Conference
Nearly 90% of organizations feel the process management discipline must change to stay relevant in today's business according to APQC's research. Are you ready?
Join more than 200 process practitioners and business professionals at the 6th annual APQC Process and Performance Management Conference, October 1-5, 2018. Equip yourself with the tools and tactics to communicate the value of process management, advance process and improvement initiatives, and sustain behavior change so that it becomes part of your organization's DNA.

This Year's Theme: Evolving for the Digital Age
There is a growing sentiment that times have changed and business process and performance management needs to adjust to keep up. There are a myriad number of reasons for this sentiment ranging from stagnating methodologies to the growing digitalization of our organizations. However, one thing is very clear, organizations require fast paced changes that incorporate or at the very least integrate with new technologies and opportunities.

Why Should You Attend?
Inspiring keynotes by customer experience/performance management consultant Roy Barnes; Founder of Predictive Analytics World, Eric Siegel; and APQC's experts, Holly Lyke-Ho-Gland, John Tesmer, and Jeff Varney.
Hands-on workshops led by APQC experts on topics ranging from process management essentials to the power of process frameworks.
Breakout sessions with leading organizations, showcasing their successful process and performance management practices.
Exclusive access to relevant and timely case studies, with the latest trends in process and performance management.
Networking with 200 like-minded process practitioners and business professionals from around the world.

---
Thank you to our Exclusive 2018 conference sponsor:

Cloud Solutions for the Connected Business
Rand Group provides IT engineering, business application implementation, e-commerce, and data analytics solutions that help companies realize the promise of Cloud computing. As a Microsoft, Oracle and SAP partner we provide the best solution for your company's unique needs. With industry experience and intellectual property for the energy, oilfield services, manufacturing, distribution, and construction sectors, we provide Digital Transformation to solve complex technology problems.