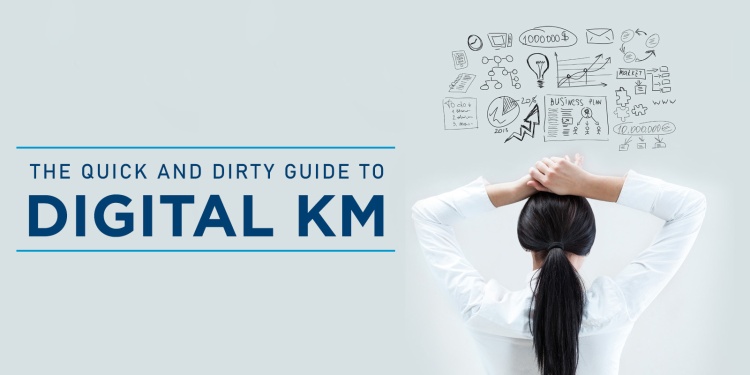 Digital has taken center stage inside organizations. Two out of three knowledge management professionals say their companies are currently undergoing some form of "digital transformation." While these digital projects come in many flavors, most include at least some changes that touch KM systems and processes. For example, nearly half of KM programs say they are moving to integrated cloud platforms like Microsoft Office 365 or Google G Suite, and more than a quarter are involved in upgrading enterprise search, data management, and learning management tools.
When it comes to digital, KM teams have three choices: lead, follow, or get out of the way. Some KM leaders are taking a defensive posture and proceeding cautiously, waiting for digital capabilities to be proven in other organizations or parts of the business before applying them to KM. (I just wrote about what I see as the dangers of this approach, given today's rapid pace of change). But forward-thinking KMers are not sitting back and letting digital happen to them. Instead, they are partnering with internal digital offices and boldly pursuing new areas, including those outside the realm of "traditional" KM.
With the theme from disruption to innovation, APQC's 2020 KM Conference is focused on the changes happening in KM, with the influx of new technology not least among them. Our Adapt KM to the Digital Enterprise track highlights how Mercer, Cognizant Technology, and Sinequa are using emergent tools like AI and intelligent search to improve the flow of enterprise knowledge. I'm also co-hosting a breakout with my partner-in-crime Holly Lyke-Ho-Gland, who leads APQC's process and performance management area, to share our latest "big picture" research on digital transformation strategy and how KM needs to adapt.
I'm excited to hear from all the track speakers, but I got a preview of Mercer's digital KM innovation when I interviewed KM leader Lisa Mercer last year. At that time, her KM team had just joined Mercer's newly established digital organization and was realigning itself to support all things digital. As part of this effort, KM was exploring new automation and machine learning capabilities. For example, it was building an internal digital assistant (similar to Apple Siri or Amazon Alexa) to anticipate and respond to employees' knowledge related needs. It was also beta-testing an incredibly cool automated content management and search tool dubbed "the Mercer Brain," which is intended to supply more accurate query results aligned with how employees think about and search for content.
I'll be hosting Lisa and fellow track speaker Gopalakrishnan Kasiviswanathan from Cognizant on a live webinar on Wednesday, February 26 at 2 pm CST to hear the latest on their pioneering digital solutions. Join us to learn more and ask your burning questions about how KM is adapting to the digital enterprise.