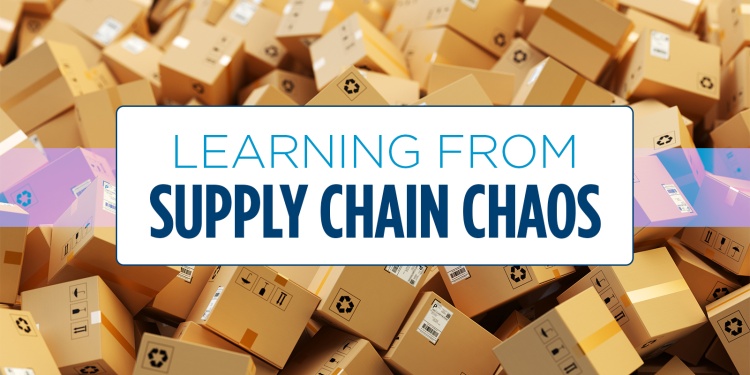 In my last blog post (Blockchain and RPA Leading Supply Chain Trends in 2021), I mentioned that chaos has made improvement efforts difficult in supply chain; in fact, it's the number one obstacle to improving processes. Just a few months into 2021, it's already clear that the changes won't stop coming—and that these problems are not going away. So if disruption is the new normal and we need to get comfortable with the ground shifting under our feet more often, what can we do?
Hang on to Your Lessons Learned 
Across the supply chain, employees have knowledge in their heads from their experiences during COVID-19 that could—and should—be captured and shared more broadly. Supply chain leaders must provide ways for employees to quickly document and share tips, tricks, best practices, troubleshooting processes, and other forms of useful knowledge. After all, there is more change coming, and why should you have to re-invent the wheel each time there is a disruption?
Identify Critical Knowledge 
While your organization gained valuable experience last year in coping with rapid changes, not all knowledge is vital to capture. How do you figure out what is worthy? APQC has done extensive research into knowledge management, starting with how to identify and capture critical knowledge (For more information, read Identifying Critical Supply Chain Knowledge).
Involve business leaders in decisions about what's critical
Decide on a system or approach like knowledge mapping to identify at-risk knowledge 
Solicit feedback from experts and experienced employees
Pay attention to grassroots knowledge needs
Prioritize critical knowledge with a tool like APQC's knowledge loss risk matrix
Capture that Critical Knowledge
Once your organization has decided which knowledge to capture, the next step is to decide where to start and how to select the best tool/approach for different employee groups and business needs. In How to Document Supply Chain Knowledge, APQC gives guidance to help supply chain leaders understand and compare options for documenting supply chain knowledge, with pros/cons, requirements, and expected
results for each.
Three of the approaches include:
Expert interviews
Lessons learned database
Process documentation
Make Collaboration Intentional
I have been hearing from many supply chain organizations that they want to improve the flow of knowledge and get more employees participating in the capture and re-use of lessons learned and other collaborative activities. To drive this improved collaboration, there is no magic bullet. However, there are proven practices that leaders can use to drive desired changes in behavior. In Breaking the Barriers to Collaboration Across the Supply Chain, APQC identifies five barriers and provides best practices for overcoming them:
Awareness 
Culture
Distance
Experience
Knowledge hoarding
Consider the Impact of Technology 
Technology was already integral to enabling the flow of knowledge within organizations, and when COVID-19 hit, it became the only way most employees could find needed knowledge and expertise. If technology is difficult to use, it's hard for employees to access knowledge. The knowledge/technology challenge can also emerge from the other direction. If organizations don't ensure the flow of knowledge across the enterprise, employees will struggle with new and unfamiliar technologies. In the absence of accessible information about how to use them and who to ask for help, employees have to guess and experiment, which often leads to frustration and mistakes. 
For supply chain professionals seeking to tackle these interwoven challenges, APQC recommends starting with knowledge accessibility. This is typically easier and less expensive to fix at a functional level, and it can help with other obstacles such as collaboration, communication, and engagement. See Improving Collaboration Across the Supply Chain for guidance.
Overcome Supply Chain Obstacles
Especially this year, it's important to "be like water" and adapt. Many of the obstacles facing organizations are multifaceted issues that extend beyond supply chain's immediate area of influence and control. Some, like the whirlwind of change wrought by the external environment, cannot be controlled at all. Thus, supply chains must meet these challenges with agility, not rigidity. 
Fortunately, 68 percent of respondents, from a recent survey I conducted, reported that they have evaluated and modified their supply chain strategy to help head off some of the obstacles their organizations are facing. The ability to remain flexible in times of chaos and capture and reuse knowledge and lessons learned will be critical for weathering these and other obstacles that emerge over the coming years.