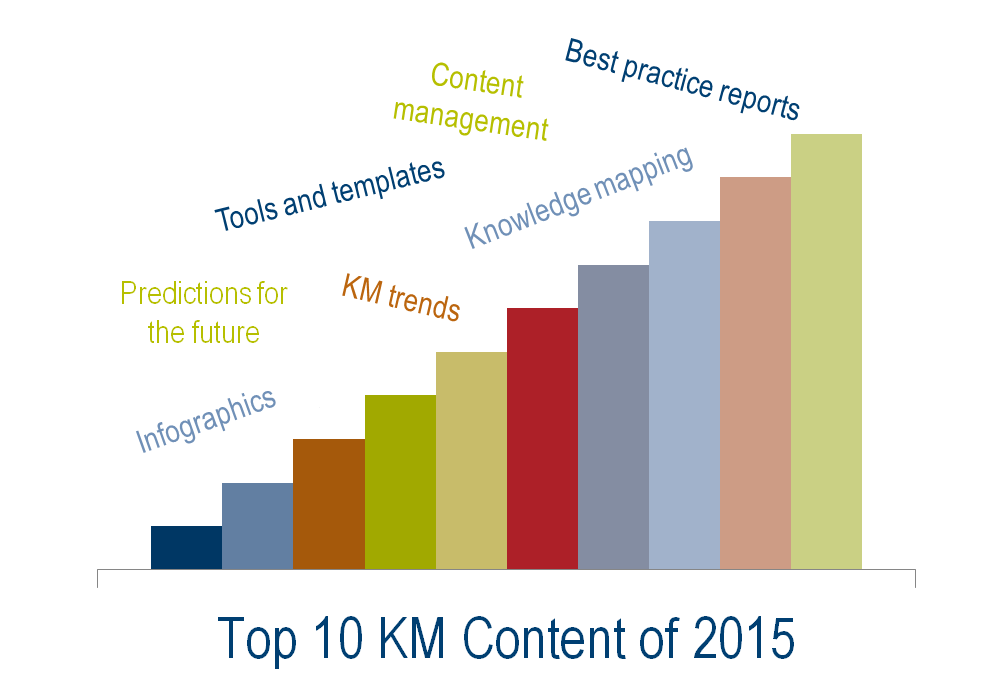 Every December I take a close look at the most popular APQC knowledge management content for that year. In part, this is just a fun exercise to see what resonated with our audience. But it also gives me ideas for where KM is headed, what topics and formats people are most hungry for, and what we should focus on for the coming year.
Without further ado, here is the KM top 10 list for 2015. (Note: * means an item is open to anyone, regardless of APQC membership status, ** means it is available for sale to nonmembers.)
What does this list tell me? First, despite the trend toward shorter content, you still like big flagship reports. And we remain committed to producing these—in fact, we have two coming up, one on the accelerators of KM maturity and one on technical mentoring best practices. (But for those who prefer bite-size nuggets, we'll continue to produce shorter pieces as well.)
Second, you want to know what your peers are investing in and how your KM initiatives measure up against the competition.  APQC's Levels of KM Maturity and KM Capability Tool represent one avenue to evaluate KM program performance, but many of you are asking for detailed benchmarking data around program structure, resource allocations, and staffing. This is why APQC will be launching a KM Governance survey in early 2016.
Third, you're still interested in "classic" knowledge management approaches like knowledge mapping and tacit knowledge transfer. Knowledge mapping, in particular, seems to be enjoying a resurgence of interest. Look out for new resources and case studies as part of our 2016 "Knowledge Mapping in Action" research.
And finally, you love tools, templates, and infographics! In light of this, I'd like to issue "honorable mentions" to two items that would have made this list had I not limited it to content published in 2015: APQC's Knowledge Management Glossary and APQC's Knowledge Flow Process Framework. In 2016 we'll continue to produce new tools while keeping the ones we have (like the glossary) up-to-date.
Does this top 10 list suggest anything else about where KM is headed and what APQC should focus on in 2016? If so, let me know in the comments.