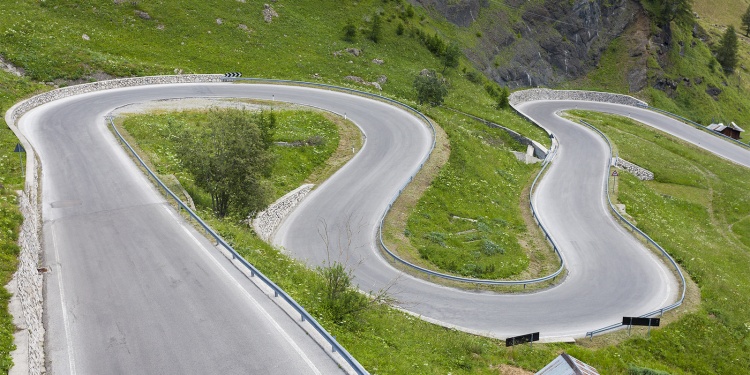 Establish a highly sustainable and efficient process management ecosystem with APQC's Process Classification Framework®. 
In 1908, the Ford Motor Company sought to disrupt the automobile industry by building a personal automobile that was affordable for the average American. Previously, automobiles had been painstakingly handcrafted, which drove up their costs and made them complicated machines that only the wealthy could afford, and an expert could operate. But Ford, spearheaded by the iconoclastic Henry Ford himself, pioneered assembly line production to create the first, 'world car' – the Model T - which would eventually be manufactured in 19 countries, and spawn a whole industry of after-market Model T accessories.
Ford's standardized, methodical process approach and scientific management meant that automobiles could be manufactured in a way that was highly efficient, highly scalable, and cost-effective. The Model T heralded the age of modernization in the United States and is one of the earliest examples of process excellence in manufacturing.
Since then, some of the world's most successful and enduring organizations have continued to pay homage to the importance of process-thinking through innovative and evolving process management methodologies. Over the years, the core of this philosophy remains the same: When all the stakeholders understand precisely what the final objective of a process is, the work that is required to achieve it, where, how, and by whom that work must be performed, efficiency skyrockets. This is the essence of effective and impactful process management. 
APQC's Process Classification Framework (PCF)® was designed with precisely this in mind. 
The first step to achieve effective process management, is for an organization to build and perfect their process framework. However, even today, organizations spend thousands of person-hours annually, documenting and maintaining processes and models without first building a process framework that ties it all together. 
APQC's PCF addresses this challenge by sharing its cross-industry (and within industry in some cases) taxonomy of business processes. The taxonomy serves as a common language for teams to discuss, benchmark, and organize the jobs to be done. By providing a baseline for organizations to develop their process definitions, the PCF enables the user to standardize processes and build a custom framework that specifically reflects their organization. This shortens the time needed to establish context and define activities, which can sometimes take multiple workshop-type discussions to iron out. 
With the PCF, you simply identify the processes in the catalog most relevant to your department or organization and translate their scope, definitions, and task hierarchy to your enterprise model. The PCF is one of the only frameworks out there that consistently defines the breadth of an entire organization. 
So, how can you put the PCF to work for you?
Understanding the PCF
The PCF works as a guide to help you select and build your own process models. This facilitates structured and effective discussions around process definitions. In our previous blog post, Miguel, a process management professional met with Kristen, the owner of the Accounts Payable (AP) process to discuss how the process could be adequately documented. However, in the absence of a standardized process framework, both parties were left with doubts around whether the documentation was complete. 
APQC's PCF establishes stability to your organizational framework. By establishing a common language based on a comprehensive view of your organization's process priorities and goals, the PCF simplifies and streamlines the way you define your process framework. Doing this leaves little room for error; saving you tons of time and resources.
How Concentra Analytics Used APQC's PCF to Drive Customer Retention 
In 2018, Concentra Analytics, a SaaS data products and services organization, secured a GBP 41 million growth equity investment. With growing sales and a rise in the number of global offices, Concentra needed a sustainable scaling framework based on clearly defined processes, roles, and responsibilities. 
Concentra partnered with APQC and began using the PCF. Within hours, the Concentra team was able to accelerate how they understood and defined key processes. For a rapidly expanding organization, the PCF was the perfect tool to drive business value through defining a strong process framework that provided visibility of processes, and supported growth through continual identification of improvement opportunities. As a result, the organization's customer net retention rate rose significantly.
7 Steps for Taxonomy Development
Inspired by the PCF, the Concentra team, developed its own 7-Step approach to building out its framework. 
Concentra's taxonomy development is a workshop-based, iterative process that involves continual communication and iteration with key stakeholders.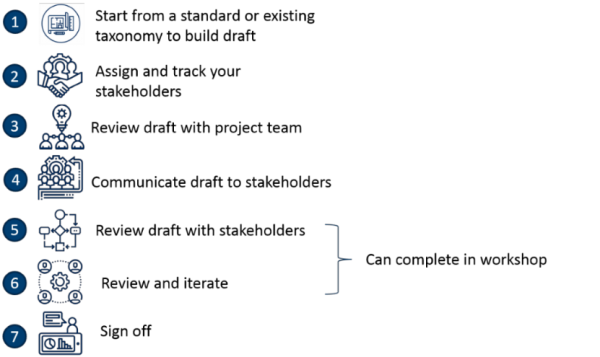 In this use case the Concentra team had the expertise and resources to undertake its comprehensive 7-Step approach when defining its process framework. However, for many organizations often there is a knowledge and skills gap in this area. When customizing the PCF, inexperienced process managers working in isolation, sometimes make irrelevant or inaccurate framework definitions, eventually causing complications that only get identified later down the road. APQC's MosaiQ® was designed with this purpose in mind.
MosaiQ® – The PCF Lifecycle Management Tool
Instead of downloading and managing your frameworks in excel, MosaiQ is a cloud-based process framework repository that helps organizations identify, measure, and manage, their business processes in a secure and collaborative environment. Using MosaiQ, the process owner can easily identify and select a baseline set of process elements from the PCF relative to their business operations. The MosaiQ tool promotes collaboration, reduces redundancies, and streamlines the management of the PCF lifecycle.
Check out MosaiQ today! Visit https://www.apqc.org/mosaiq for more information, or sign up for upcoming office hours to ask your question directly!