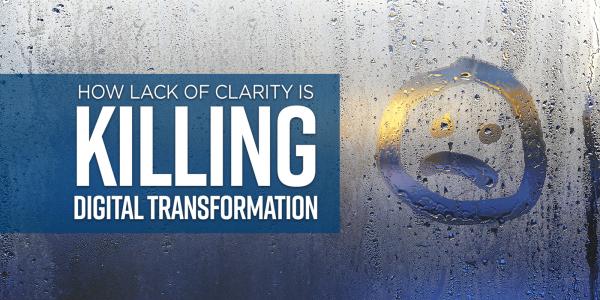 Three-quarters of organizations are engaged in some form of digital transformation. Digital transformation involves the strategic integration of multiple technologies. Its primary components include digitizing information, automating processes, applying analytics, and enabling digital interactions.
Though the drivers of the transformation vary widely—from operational efficiencies to better customer experience—many organizations have one thing in common, they are struggling to "get it right". 
Signs of a Bad Digital Transformation
Often a bad digital transformation occurs because of a lack of cohesion and strategy. But how do you know your organization's digital efforts are going wrong?
 Here are a few signs to look out for:
Mislabeled projects—discrete improvement projects or siloed initiatives labeled transformations.
Rework—technologies or bots that are not fit for purpose and require costly revisions.
Employee resistance—disengagement, using work arounds to avoid adopting new technologies, or avoiding participation in digital efforts.
However, these are only symptoms that's somethings gone wrong.
Root Causes of the Signs
While these are by no means the only causes of bad digital transformations, the most common issues include:
No overarching portfolio management—a transformation requires that organizations have a holistic picture of all the interconnected initiatives and projects that support the change. Only about 40 percent of organizations use a centrally managed portfolio approached to execute an overarching digital strategy. Without this there is often no criteria or parameters about what defines a digital project, how it fits in with the rest of the digital work, or an objective means to allocate resources. 
Poor process or data mapping—at its core, digital is about data, process, and information flows. However, most organizations rely on their IT teams to lead their digital efforts, which can result in either cursory or no assessment of the organizations processes and data structures. Or if these structures exist, they are hidden away in operational silos.
Lack of clarity—change can be scary, particularly when employees do not understand the scope of what is happening and what it means for them. Without a clear understanding of the organization's overarching strategy it can't communicate the purpose of its digital efforts or assuage fears of how it will impact people's work.
What Can We Do About Them?
Organizations need to develop a cohesive plan for their digital work. Best-practice organizations typically start by defining what digital means for them. And then move into defining why they are doing it—for example a focus on collaboration throughout the business. Which ultimately helps develop the criteria for what's in, what's out, and why its beneficial. 
Organizations need to reassess their processes for the digital world and establish a standard process foundation. There are two big reasons that a process foundation is vital for digital:
It creates a holistic picture of the "as is" organization—understanding of how work gets accomplished, where information and data reside, and what the current capabilities are.
It helps organizations understand the root causes of problems and leads to best fit solutions. Whether they're a technology solution, a reorganization, or a simple process rework.
As with any major initiative, digital transformations require attention to how we manage change and prepare and engage those that will be impacted. This means that we must engage employees directly in the process and provide leadership with the tools and support they need to lead effectively. 
Want to Learn More?
Join us and 250 process practitioners and business professionals for APQC's Process & Performance Management Conference.
This year's Process and Performance Management Conference theme is "Driving Value End-to-End". Ultimately tying people, technology, and process together into a cohesive whole: Human meets digital, enabled by process. Register today!
For more process and performance management research and insights, follow me on twitter at @hlykehogland or connect with me on LinkedIn.