Have you experienced difficulty implementing a change initiative or getting buy-in for a process improvement? If so, you're not alone. In fact, over 20 different people-related challenges are getting in the way of process and performance improvements, according to APQC's recent process and performance management survey. Organizational resistance topped the list of process-change barriers, followed by culture, or as one person described it, "the culture vulture."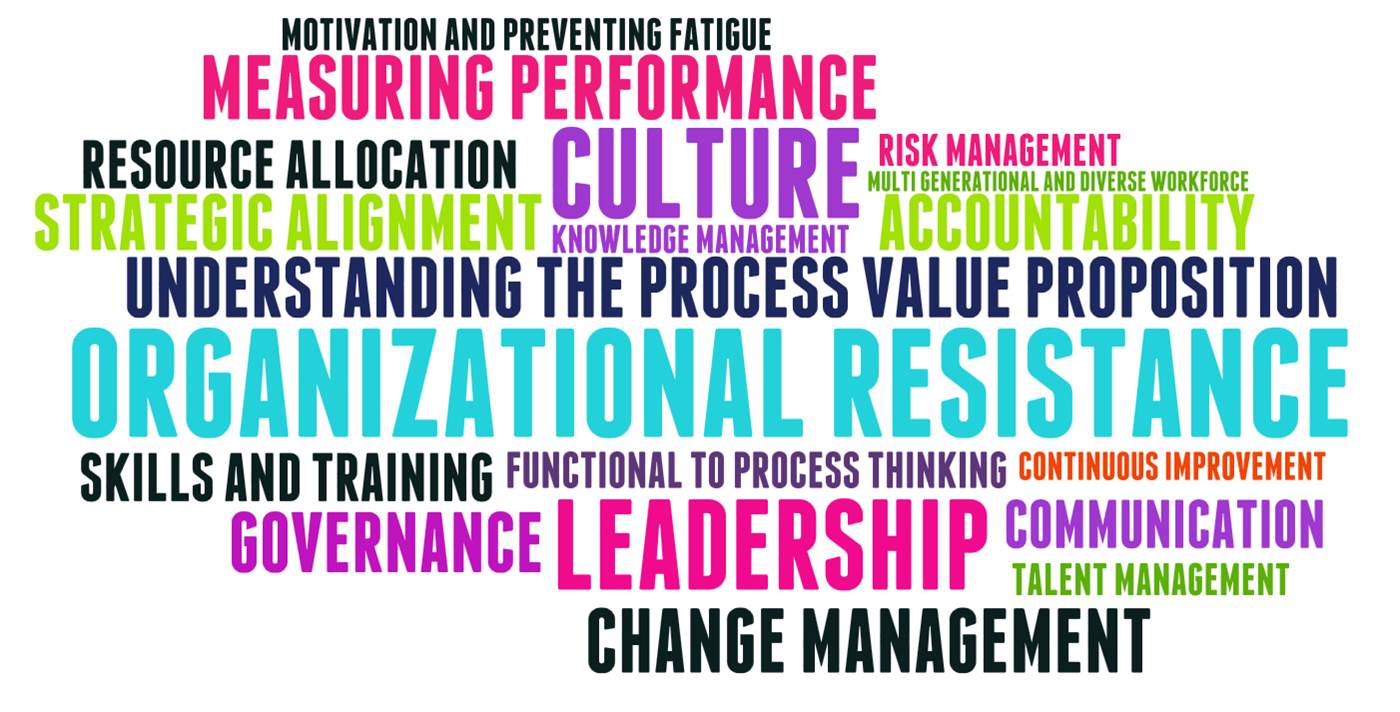 Fortunately, there are ways to keep organizational resistance and the "culture vulture" from disrupting your organizational changes and process improvements. Nick Tasler, author of Domino and recent keynote speaker at APQC's Annual Process Conference claims there is a simple way to inspire change. Tasler's philosophy is based on three key decisions that help you create a domino effect for change.
Decide what your most important change objective is. The first mistake many organizations make is introducing too many change objectives at once and/or not prioritizing change objectives. Your employees' capacity for change is limited and too much change causes stress. As depicted above, keeping employees motivated and preventing fatigue is one of the 20 people-related barriers to organizational change.  
Determine who you need to inspire first. Tasler suggests targeting your front-line managers and executive sponsors first, especially those individuals with influence or sympathy for your cause. Individuals with influence can come in all shapes and sizes. For example, an individual with no formal authority may have significant influence due to lengthy tenure at your organization or because he or she has a charismatic personality. Essentially, get some change allies on your side.
Select which objectives should be on your waitlist. People say, "you can have it all, just not all at the same time," and so does Tasler. Divide your change objectives into two categories—put three (and only three) objectives under the "90-day sprint" category and the rest under the "90-day waitlist" category. Even if you know how to prioritize your change objectives, get employee input. Engaging your employees will decrease potential change management issues down the road and help foster communication—two additional people-related barriers to organizational change, according to the APQC survey.
To learn more about Tasler's advice on inspiring change, read the summary of his keynote presentation here.
Tell us about your organization by taking our poll. In our survey, we saw that change fatigue or burnout plagues process and performance improvement initiatives at organizations today.
What's creating the most employee burnout within your organization?

— APQC (@APQC) January 13, 2016
APQC's process and performance management group conducts an annual survey to understand common challenges and priorities facing practitioners. 150 survey respondents answered the following question: "When it comes to the human side (or people side) of process and performance management, what challenges does your organization face in the coming year?" The open text responses were categorized into "challenge phrases" in the word cloud above and are represented in size by frequency.
Follow me on twitter: @haleyc_APQC
Stay up-to-date with our upcoming research, webinars, and more by visiting the HCM expertise page.