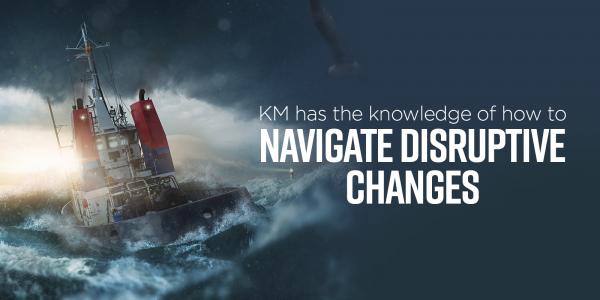 It seems that we all have a lot of things disrupting our working hours: mergers and acquisitions, new organizational structures (with new bosses) being put in place and, yes, emerging technologies. And, it seems as if they all are happening at once.  
I'd like to say to my fellow KMers– let's just seize this moment, grab the energy around these disruptive forces, and do something about it.  After all, we (KM) have the knowledge of how to navigate these types of disruptions; we've been doing this for years. It's time to reimagine, rethink, and retool our KM strategies. Organizations that anticipate disruption will be a step ahead of the competition as they learn to leverage the opportunities that change offers. If we are #smart, we will embrace these forces and take advantage of the ever-expanding role of KM.
Recipients of APQC's first-ever Excellence in KM award have inspired me with their #smart stories of dealing with forces and being courageous to reinvent themselves. I'd like to highlight two of them for you today.
Schlumberger is a trailblazer. Its KM group is dynamic and agile. Their customer/user experience has been central to their knowledge ecosystem for 25 years. It wasn't a surprise to me when they achieved a level 5 maturity in 10 of the 12 categories of KM capabilities according to APQC's KM Capability Assessment Tool. Their KM group has been at the strategy table as they have gone through the force of numerous acquisitions and mergers. They have never lost sight of the importance of capturing, transferring, and preserving the company's knowledge assets, and are consistently demonstrating tangible value to their leaders and stakeholders.
The KM program at Mercer is flexible and open to mirroring the changes of business needs. With a restructure of reporting relationship into the Chief Digital Officer, the KM group has taken advantage of digital capabilities and aligned their work to support users' needs. When valuable content gets developed for the intellectual capital, research, production, and marketing teams, KM is there as part of the content development process to help shape its value to the audience. This move has helped the KM team evolve from intranet coordinators to strategic partners.
I encourage you to proactively find and leverage the disruptive forces that are around you and decide if the time is right to reimagine, rethink, and retool your KM program. If your KM program is being #smart, validate what you are doing by participating in APQC's KM Capability Assessment Tool and you may be eligible to join our prestigious group of Excellence in KM award recipients. And if you are not quite there yet, I invite you to learn from our inspiring 2019 recipients.