Tuesday, August 5, APQC will be hosting a webinar to discuss the results of its research on how top performers in procurement compare to other organizations. APQC's Open Standards Benchmarking in procurement data was used to identify procurement top performers as organizations with high performance in four core areas:
" cost effectiveness,
" process efficiency,
" cycle time, and
" staff productivity. 
The upcoming webinar will provide information on key performance indicators from each of the four core areas mentioned above. It will also look at what top performers spend to order materials and services and the impact of organizational structure on procurement performance.
With regard to cost effectiveness, APQC's data shows a large difference between the total procurement cost of top performers and that of other organizations studied by APQC. At the median, top performers spend $2.99 less per $1,000 in revenue on procurement activities than the other organizations. The difference is even more apparent at the 75th percentile, with top performers spending $5.26 less per $1,000 in revenue for procurement. For an organization with $5 billion in annual revenue, this would result in a savings of $26.3 million in procurement cost associated with being a top performer.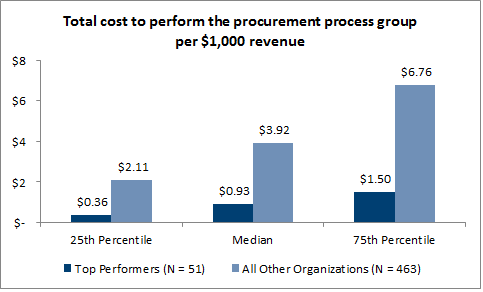 Visit our Supply Chain Management Expertise page to stay up-to-date on our research, featured content, and events.