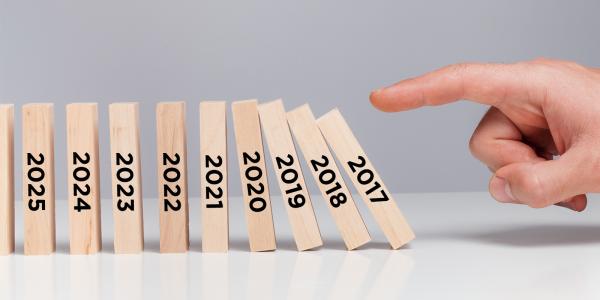 In 2018 process and performance management started going through a paradigm shift, due to the rapid-fire pace of change, the ever increasing need to improve cycle times, introduction of digitization as a business driver, and the emphasis on customer-centricity. Process and performance management professionals have spent the last two years reassessing their capabilities and exploring ways to ensure they have the right skillsets and methodologies to stay relevant.
However, as we moved into 2019, we started to see more granularity in the themes around the changing state of process work. 
So, what were the impactful themes for process and performance management professionals in 2019?
Shift Towards End-to-End Processes
End-to-end processes help organizations understand how the organization creates value and aligns the purpose of its processes with organizational needs and customer value. Additionally, organizations have learned that end-to-end processes help breakdown silos which ultimately improves hand offs between departments, provides a holistic perspective for improvement work, and supports large-scale systems and technology projects.
However, organizations struggle with establishing their end-to-end processes. Particularly around the topics of scope (where does an end-to-end process begin and end), governance (identifying the best fit process owners), and measurement (determining the "right" KPIs).
Some of the relevant research from this year includes:
Digital Transformation Continues to Drive Organizational Projects
Digital transformation is a high priority for many organizations. Three-quarters of organizations were involved in digital transformations in 2019. There are several reasons for the steady, year-on-year growth of digital work on the strategic agenda of most organizations: the attractive nature of new technologies, the pressure to improve efficiency and do more with less, the ability to find new products and services, and, above all, the need to optimize the customer experience.
However, there is a lot of confusion around what constitutes a digital transformation, and organizations continue to struggle with creating sustainable changes that support organizational goals.
Some of the relevant research from this year includes:
Resurgence of Data and Analytics Challenges
What's old is new again. Organizations have come to realize that off-the-shelf solutions and investments in technology can wreak havoc or require tedious rework without a firm foundation in process, data, and analytics. Hence, all things data and measurement have once again coming to the forefront of organization's priorities. 
Some of the relevant research from this year includes:
Process Work is Foundational
At the core of most organizational changes lies process. Whether that change is an enterprise-wide, digital transformation or continuous improvement effort, organizations need a firm process foundation.  Which means organizations need to rely on their process teams to help define their as-is state and map out a strategy to move into the future state. In other words, solid process discovery, capabilities mapping, and knowledge mapping techniques are required help the organization understand how work gets accomplished, where information resides, and what are the people and technology resources currently available.
Some of the relevant research from this year includes:
And to balance our reflection on the themes and research from 2019, here's a sneak peek at some of the topics planned for 2020:
More end-to-end process maps and measures.
Building a robust business process management maturity assessment.
A look at the intersection of process and data management.
Re-establishing the fundamentals of measurement.
Also please share your biggest challenges and priorities for 2020 with us. This information helps us continue to ensure our research agenda meets your needs and understand the common challenges and goals of you and your peers. All responses remain confidential, are only shared in the aggregate, and participants will receive a copy of the survey report.
Thank you all for making 2019 a great year of discovery and exploring so many interesting topics. I look forward to the things we will accomplish together in 2020.
For more process and performance management research and insights, follow me on twitter at @hlykehogland or connect with me on LinkedIn.