Transform Customer Service and Operations Through Order Automation
Details
Type:
Published:
June 30, 2018
Author:
APQC
Pages:
19
Price:
Your Price: FREE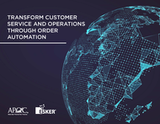 Great customer service hinges on efficient order fulfillment — especially the initial processing of a customer's order. With thousands of sales orders coming into most large organizations monthly, this mission-critical process can demand a significant portion of customer service representatives' (CSRs') time and attention in the quest for near-perfect input accuracy and order fulfillment.
Sales order automation can transform customer service and operations which provide quantifiable benefits to the organization. Traditional order management concerns are being addressed with automation. Automation provides an opportunity to improve order management by:
reducing error rates,
decreasing costs per order,
increasing customer satisfaction,
improving process transparency from receipt to archival,
accelerating the order-to-cash cycle,
prioritizing specific orders,
reducing reshipping and inventory problems,
integrating with existing systems, and
increasing processing capacity.
Part of: