Innovation: Putting Ideas into Action (Best Practices Report)
Details
Type:
Published:
January 23, 2006
Author:
APQC
Pages:
154
ISBN:
1-932546-60-X
Price:
Your Price: $395.00
Member: FREE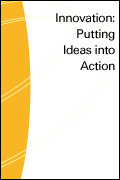 Identify and adopt common innovation success factors found within some of America's world-class organizations. In Innovation: Putting Ideas into Action, both small, less well-known companies and large, global companies demonstrate how successful innovations apply across industries, organizational sizes, product ranges, and geographic locations.
This classic report covers best practices for defining an innovation strategy, developing supporting infrastructure and processes, establishing a culture that embraces innovation, and measuring success. Included are in-depth case studies of Bausch & Lomb, IBM, Kennametal, Mayo Clinic, Procter & Gamble, and The Clorox Company.
Click here to read a brief overview of this report.
For additional information on this topic, you can also read APQC's updated Innovation: Putting Ideas into Action 2009 (Best Practices Report).