During one of the general sessions at APQC's 2015 Process Conference a couple of weeks ago, the question came up, "How do you quantify the benefit of knowledge management (KM)?"
Responses ranged from "we shouldn't have to measure KM" to "knowledge sharing is intrinsic and it should just be part of the way we work" to "it's too hard." I must admit that I almost fell off my swivel chair when I heard this. While I know that these comments were sincere, I feel like our work in KM was set back a decade. Good intentions around knowledge sharing are not enough to really move critical knowledge around and across an organization. You can measure the impact of KM and, more importantly, you should.
So why should you conduct financial analysis and document the benefits to show the value of KM investments? Because it's correlated with securing and expanding the KM budget, leadership and business-unit support, traction to expand KM, and evidence of business value (see APQC's Accelerators of KM Maturity data report). If these are not compelling enough reasons, think about how it helps break down the barriers to knowledge sharing.
While what you measure and how varies based on your level of KM maturity, KM programs that thrive start measuring from day one (see Measuring Your Knowledge Management Program Across APQC's Levels of KM Maturity). Most organizations start with measures of participation in KM approaches, like communities, or the use of tools. This provides a KM leader visibility and proxies for acceptance, behavioral changes, and engagement. APQC's data below shows organizations that define key performance indicators at the beginning are more supported and sustainable.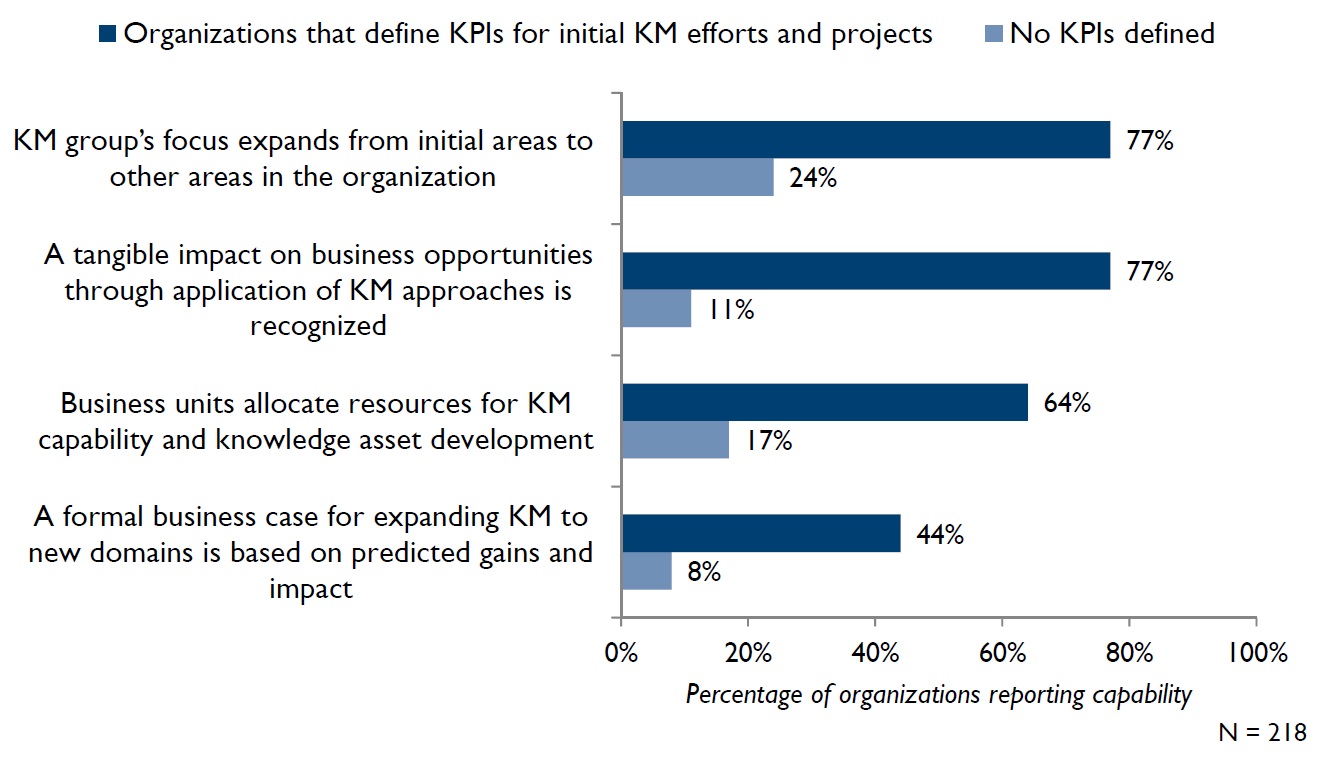 We spend so much time at APQC helping KMers find and align suitable measures for their KM Programs. And we have seen great success. There are many tactics for measuring the impact of KM, depending on your situation. APQC has a framework to develop a meaningful measurement system that can be customized to your situation and the focus of your KM program. There is no need to spend the time wondering what KM measures to use and how to apply them. Accelerate your efforts by adopting best practices that work. We'll talk a lot more about this during our Annual Knowledge Management Conference happening April 25-29, 2016 in Houston, so we hope you will join us. As our CEO Dr. Carla O'Dell says, "It isn't always easy, but few things worthwhile are." I'm just sayin'...