Last month, I had the honor of recognizing 13 of the best KM programs in the world at APQC's 2019 KM Conference. These organizations worked their way through APQC's evidence-based assessment for KM and submitted their data to be benchmarked against the 12 categories of KM capabilities. There were nine organizations recognized for KM business unit achievement and four organizations recognized for KM enterprise achievement. I do want to point out that these are not the ONLY organizations in the world that have mature KM capabilities, but they are the ones that submitted their data and we know what they are doing (hint, hint!).  
Their in-depth stories will be shared in the APQC Knowledge Base as each organization has a very unique and vivid story of "prouds and sorries" that we all can learn from. Here we highlight two of our Excellence in KM award recipients, Grant Thornton (Enterprise KM Maturity Level 4) and U.S. Army Corps of Engineers Southwestern Division (USACE SWD, Business Unit KM Maturity Level 3), to get started.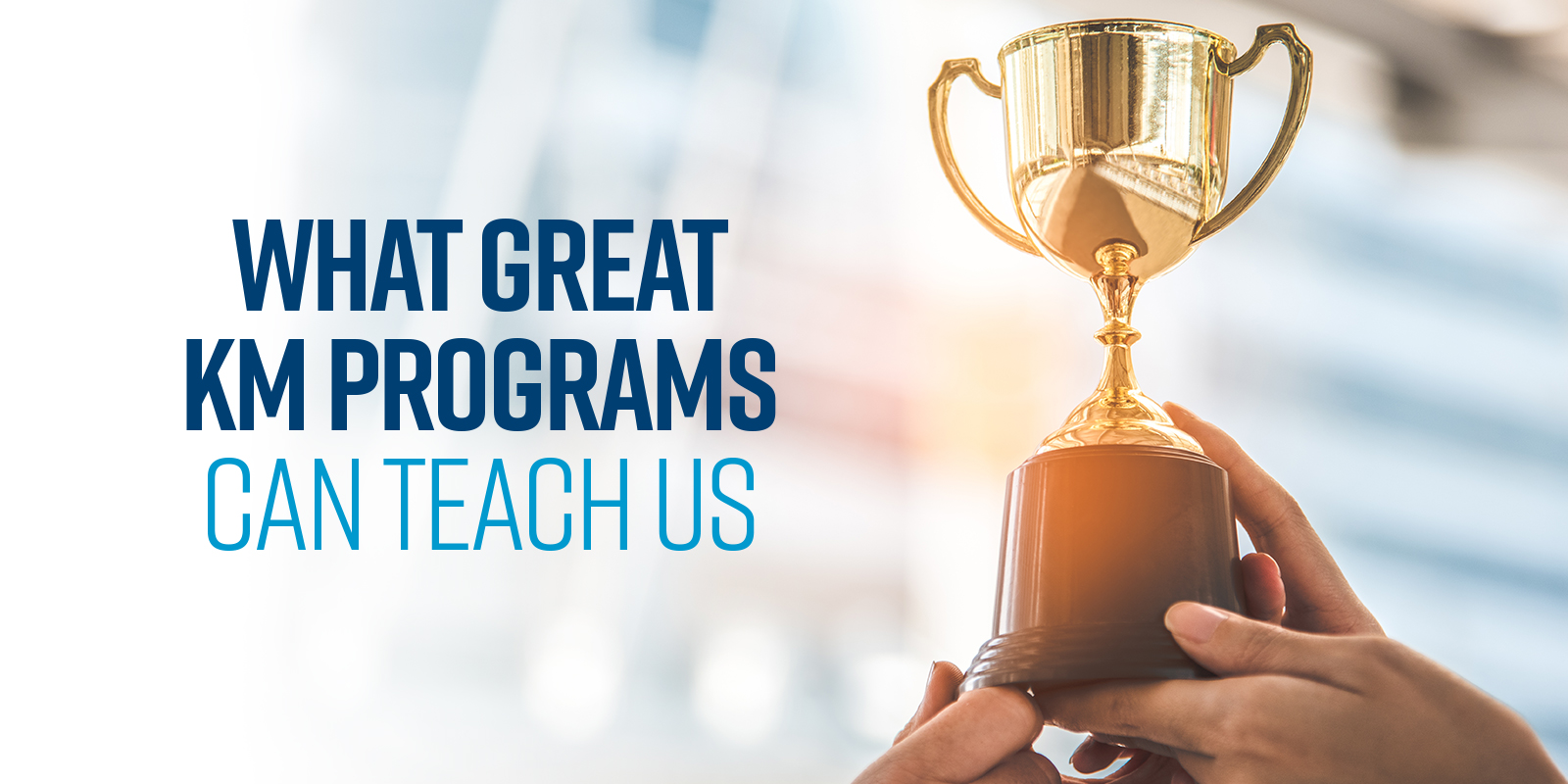 One word I would use to describe the KM program at USACE SWD is "prepared."  And always ready for a teachable moment. In 2014, USACE SWD started building the knowledge flow processes and mapping critical knowledge immediately; but the workforce wasn't that interested. The turning point came with the flooding of 2015. USACE SWD's KM capabilities were "there" for the needs of their first responders. During this time of crisis, USACE SWD staff started to discover the information and expertise they needed for this emergency situation and used the capabilities found in their knowledge hub. When they saw the opportunity to capitalize on an event, they did. And this has continued. My lessons from USACE SWD are to 1) build capabilities that make sense for the way people work, and 2) always be actively looking for your customer's "teachable moment."
Grant Thornton's KM team decided not to let a "good transformation" pass them by! The KM team was willing to accept that the definition of KM had to change. It's no surprise that my one word to describe their KM program is "personalize." While upgrading the tools for knowledge processes and KM approaches, Grant Thornton moved from a one size fits all approach to KM. To begin this process, they looked at the way people did their day to day jobs and figured out how they could add value (reduced cycle time to find content and access to expertise is one example). When you read their case study, you will be interested in how they rebranded their intranet for modern day "digital workspace." The lesson I learned from Grant Thornton is to be bold and take ownership of some things that may not be "core KM," but it's the right thing to do for the larger knowledge sharing and collaboration effort.
I encourage you to read the full Grant Thornton and U.S. Army Corps of Engineers Southwestern Division case study for indept insights for improving your KM program.
I could go on and on about each of our winners… and I will over the next few months <grin>. But, I want to hear your KM story. Learning from you is one of my favorite hobbies! And if you want to have your KM program recognized next year for its achievements, submit your assessment through APQC's Knowledge Management Capability Assessment Tool (KM CAT).