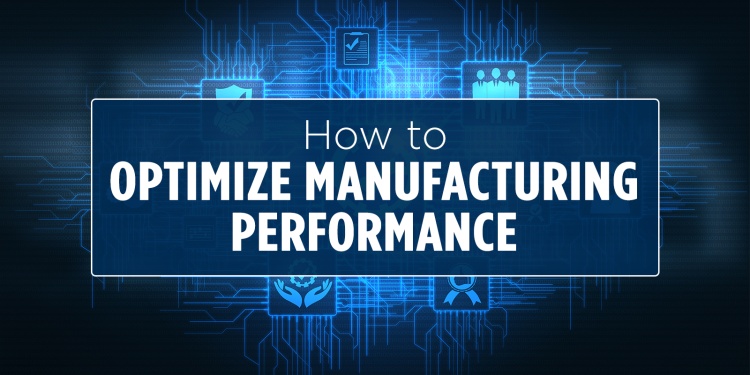 After a year of severe disruption, manufacturing is on the rise again. For example, the Institute for Supply Management's February 2021 Manufacturing ISM® Report on Business® noted that 16 of 18 manufacturing sectors saw growth in February, encompassing everything from electrical equipment and fabricated metal products to apparel and furniture. As production begins to ramp back up (even while contending with challenges like labor shortages and social distancing requirements), it's more important than ever to ensure that high-quality products emerge from the manufacturing process.
Finished-product first-pass quality yield for primary products is a quality measure that should be on every manufacturer's radar. This measure calculates the percentage of finished primary (or high level) products that meet all quality specifications at a final test point. It is part of a set of process efficiency measures that help organizations optimize the performance of their production processes by minimizing waste and refining resource consumption. Performing well on this measure means that most of the product flowing through a company's production process is ready to be shipped and sold to customers, while poor performance means wasted resources, slower cycle times, and lost revenue. 
So how do companies stack up on this measure? The figure below shows that top performers achieve almost 98 percent success in meeting quality standards on the first pass. Bottom performers are almost 8 percent lower, which leads to a greater likelihood of rework and/or scrap as well as higher costs and slower cycle times.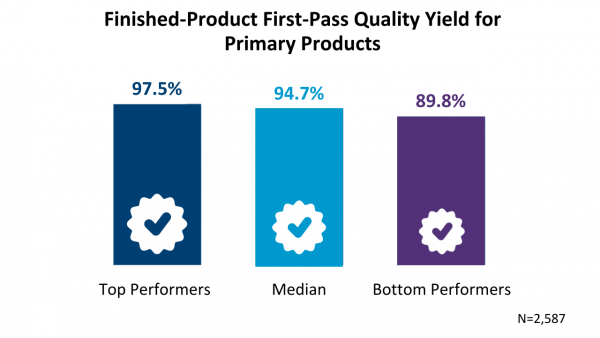 UNPACKING THE CAUSES OF LOW PERFORMANCE 
The first step to improving finished-product first-pass quality yield is to determine the cause(s) of lower performance. While there are a variety of factors that can impact this measure, there are four that are particularly worth your attention:
Quality;
timeliness; 
process; and 
technology
We'll explore each of these four areas through the example of a fictional manufacturing company to illustrate their impact on this measure and some of the trade-offs that organizations might need to make in response. Along the way, we'll recommend some associated measures and resources from APQC's Open Standards Benchmarking Database and Resource Library that can help provide the bigger picture for your organization. 
Quality of Supplier Materials Can Be Decisive 
The quality of supplier materials (or lack of it) can have a decisive impact on finished-product first-pass quality yield, especially if quality defects are not discovered until the end of the manufacturing process. Imagine, for example, a company called Bounce-Fit that manufactures luxury fitness trampolines. For easy storage (when those New Year's resolutions to exercise eventually go out the window), the trampoline is designed with two hinges that allow it to fold in half. However, quality inspections at the end of the manufacturing process reveal that more than 10 percent of fully manufactured trampolines have defective hinges that prevent the trampoline from folding. These trampolines—which include other materials like a special alloyed steel and high-quality bungee cords—cannot be sold until the defective hinges are replaced. 
Recommended measure: Percentage of total number of items purchased and received failing inspection (incoming material quality).
Timeliness Will Affect Revenue
In response to discovering the defective hinges, Bounce-Co could halt its production process to replace the defective parts, address the issue, and inspect component parts more intensively before production. But quality is not the only factor that manufacturers like Bounce-Fit need to consider. For example, suppose that the company's peak sales occur around the holidays. Further, as a result of pursuing an excessively lean inventory strategy, Bounce-Fit does not have enough spare hinges to go around. To make matters worse, the hinge supplier is in China, and the extended lead time on the hinges due to COVID-19 means that the supplier cannot provide them before the holiday production ramp-up. If the defective hinges cannot be replaced and the quality problem addressed in a timely manner, the company stands to lose significant revenue. At this point, Bounce-Fit could:
Sacrifice quality by eliminating the hinges from the design entirely; or 
Source the hinges from Hinge-Co, an alternate supplier headquartered in the same city as Bounce-Fit. Hinge-Co can produce the hinges to the same standards, but the price of their hinges (especially for an expedited order) is much higher than the usual supplier.  
Both of these options carry tradeoffs. Building the trampolines without the hinges will help ensure that more products are ready on time, but sacrifices quality by eliminating one of the product's most attractive features. Buying from Hinge-Co, meanwhile, also ensures timeliness but may result in razor-thin profit margins that eat into the company's revenues. 
Recommended measure: Primary product manufacturing cycle time in hours. 
Documented Processes Become Critical  
Even with the highest-quality components, a company can still end up with lower finished-product first-pass quality yield if it doesn't practice good process management. Suppose, for example, that Bounce-Fit's assembly line workers have been with the company for decades. They can quickly and expertly carry out assembly tasks in their sleep if needed—But the assembly process isn't documented anywhere. Meanwhile, half of the assembly-line employees are now out sick with COVID-19. Without a clearly-documented and easily-accessible assembly process, less-experienced employees can and likely will end up making mistakes that result in a higher number of defects. Skills, training, and documentation for processes are just as critical as the quality of raw materials. 
Recommended resource: How to Document Supply Chain Knowledge.
Technology Maintenance Is Vital
Proper equipment maintenance is vital in manufacturing. Leading companies make substantive investments in predictive analytics and IoT sensors that provide real-time data drawn from systems and equipment across the enterprise. This data not only provides deeper insight for better decision-making, but can alert the company when machines are not operating as they should. Without these technologies, organizations may face unplanned downtimes when machines are suddenly unavailable. If the machine that tests the integrity of each bungee cord suddenly breaks down, for example, Bounce-Fit is in a pickle once again. They could rally employees to manually test each bungee cord, but quality (not to mention cost and cycle time) may take a hit as testing begins to occur outside of the normal operating procedures. 
Recommended measure: Unplanned machine downtime as a percentage of scheduled run time.
CONCLUSION
As the example of Bounce-Fit illustrates, achieving top-tier performance for this measure takes careful planning, good supplier relationship management, well-documented processes, and investments in the right technology. Gaps in any of these areas will only not put a dent in finished-product first-pass quality yield, but may also force companies to make tradeoffs between cost, quality, timeliness, or process. Inspecting raw materials early in the process, making a plan with suppliers to cover any defective raw materials in advance, carefully documenting processes, and investments in real-time data can help ensure that fewer of these trade-offs need to be made.