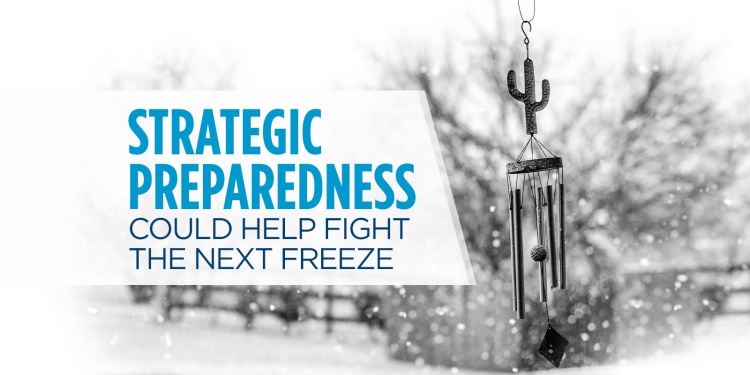 A short two weeks ago—which feels like a lifetime ago—Texas was hit with another of those "unprecedented" events that have started to become commonplace since early 2020. The entire state was proverbially frozen in its tracks due to the worst winter storm since 2011. Millions had to find creative ways to stay warm and functional without access to power and running water in freezing conditions. 
My household was no exception. We went without power for three days and then within 10 minutes of getting power restored, we lost access to water. Lucky for us we didn't get hit with all the complications of the situation at once. But even more importantly we had accumulated quite a stockpile of camping equipment, boardgames, and scented candles (loving gifts from my in-laws over the years).
We even had the resources to use the terracotta heater hack in the garage to keep our poorly insulated pipes from freezing. Not to mention a lovely next door neighbor who BBQed in freezing temperatures to provide his immediate community with a hot meal (which might be the most Texas thing I've ever experienced). So, while things weren't ideal, we were better off than many and had the means and contingency plans for dealing with the situation. 
Like any unexpected disaster, the winter storm has bred a reaction to prepare for similar events in the future. I would love to see the data on the number of Amazon lists started by Texans with everything they need from collapsible water containers to solar power banks for the inevitable "next time". 
Strategic Preparedness is Key
Though many Texans were caught unprepared, some organizations, namely Texas' favorite grocery store chain H-E-B, weren't. Like its response at the beginning of the pandemic, H-E-B has not only kept its business running in the face of "unprecedented" events, but also stepped in with emergency supplies and support for Texas communities time and time again. 
Why has H-E-B been so well prepared for the unexpected?
It has solid strategic planning practices that incorporate simulation, scenario planning, and contingency plans. Furthermore, H-E-B's approach includes an emergency management division, responsible for staying cognizant of the external environment and potential risks and incorporating new lessons from similar situations into their response plans. This team has incorporated learnings from disasters like the Hurricane Rita and H1N1 outbreaks with multiple scenarios to test and identify best fit solutions. For example, in the beginning of the pandemic the team studied the Chinese government's response to extrapolate best ways to implement plans for social distancing protocols, managing sick employees, and ensuring supply chains could keep stores stocked. 
Previous research on organizational agility found that scenario planning has a positive impact on an organization's ability to quickly respond to disruptions or opportunities in their business environment. This is because scenario planning is a methodology that some organizations use to develop flexible long-term strategies. It requires organizations to: 
collect inputs (e.g., social and market trends, political or regulatory changes, and financial or operational performance data), 
draft scenario situations around potential opportunities or risks, 
disseminate the scenarios to the participants, 
facilitate a discussion on the various scenarios, 
pinpoint the scenarios' implications, and create outputs (e.g., scenario triggers and mitigation or action plans). 
Strategic Planning Supports Strategic Responsiveness
Scenario planning, by its very nature, supports strategic responsiveness. It's a structured practice that ensures that decision makers, such as the emergency management division at H-E-B, look at future opportunities and risks, assess them against the organization's needs, identify early warning triggers, and develop contingency plans they can execute quickly.
In many ways the COVID-19 pandemic has been a wake-up call that organizations need to ensure their organization is prepared for the next "unprecedented" event and bolster the flexibility of their decision-making practices and responsiveness to the implementation of new initiatives. APQC is conducting a research project to explore strategic planning practices and identify the key characteristics that drive organizational agility. 
Please take a few minutes to share your organization's planning practices. As a token of appreciation, you will receive a copy of the survey summary report. Individual responses will be kept strictly confidential according to APQC's Benchmarking Code of Conduct.
For more process and performance management research and insights, follow me on twitter at @hlykehogland or connect with me on LinkedIn.