Visibility into spending is a topic that is on almost everyone's mind these days. That's why more and more organizations are devoting efforts to spend management, in which spending patterns are identified and an organization can pinpoint opportunities for long-term savings. For the supply chain world, what matters from this process is spend analysis, or the process in which organizations ask three questions.
   How much are we spending?
   With which suppliers?
   Are we getting what has been promised?
I recently wrote an article on spend analysis for Supply Chain Management Review. In the article, I take a look at organizations that have formal spend analysis programs and compare their performance on several procurement metrics against the performance of organizations that don't conduct spend analysis.
I found that the total cost of the procurement cycle as a percentage of revenue is much lower for organizations that conduct spend analysis. For an organization with $5 billion in revenue, at the median the difference in procurement spending between the two groups would be $11 million.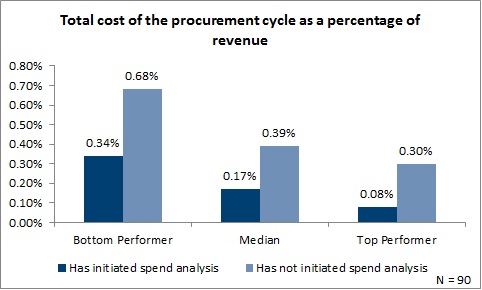 I also found a 121 percent difference between the two groups with regard to the number of full-time equivalent (FTE) employees needed for procurement processes per $1 billion in purchases. At the median, the group conducting spend analysis needs 72 FTEs for procurement processes, while the group not conducting spend analysis needs 159.4 FTEs.
Overall I found that the organizations engaging in spend analysis performed better on several procurement metrics than organizations without spend analysis. You can check out all of my findings in the article Spend Analysis Delivers Big Benefits.